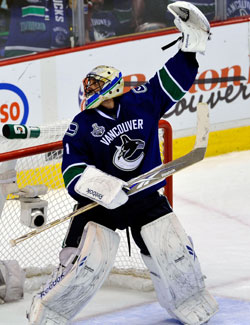 Roberto Luongo would like a mulligan.
He'd probably take one for the entire postseason (specifically the Chicago series after which he had a hard time recuperating his image), but his remarks this week were regarding his comment about Tim Thomas during the middle of the Stanley Cup Final.
"If I could do it again, I wouldn't say it," Luongo said in an interview with Radio-Canada.ca. "I didn't want to create the buzz that it did. After the fifth game, I had never been so emotional and I got carried away."
You remember it, when Luongo was pumping Timmy's tires?
After Thomas was caught too high in the crease, leaving the net open for Maxim Lapierre on a rebound off the back board to score the game-winning goal, Luongo was asked his thoughts on the Thomas' style.
"It's not hard [to stop] if you're playing in the paint," he said in his postgame conference. "It's an easy save for me, but if you're wandering out, that's going to happen."
He followed it up to admitting that Thomas makes saves that Luongo won't, too. It was a sound bite that drew an incredible amount of attention, but I was never exactly sure why. It was rather harmless, especially considering Luongo was asked to comment on it, he didn't just offer it at his own volition. Nonetheless, it hung over the Finals for Games 6 and 7, both Boston wins.
If you want to hear the whole interview, you better understand French. If so, here's where you can listen.
Photo: Getty Images
For more hockey news, rumors and analysis, follow @EyeOnHockey and @BrianStubitsNHL on Twitter.