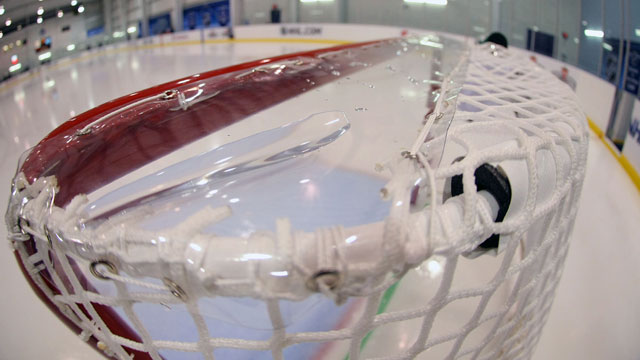 Day 1 of the NHL Research and Development Camp, or Camp Shanny as everybody likes to call it, is in the books. It's a time testing, tweaking and experimentation while general managers also get an up-close look at some of next year's draft prospects -- where GMs came away impressed with the defensemen.
Brendan Shanahan, getting settled into his new role as the NHL's next master disciplinarian, is running the show again this year as the league tries out a few ideas, some that will hit, some that will miss.
"This is research and development, it's what many companies do, what many corporations do," Shanahan said after the session. "It's what we do. It's not a knee-jerk reaction to anything we feel is wrong with the game.
"One of the things, maybe a misconception, was that we had to go out and test 30 new things. Quite honestly there were about 20 things that were repeating because we needed to get more information, more data. We love the way the game is being played by our players. We think the game is an entertaining game for the fans and we think it's a great time to study it. If for any reason, a year, two years, three years, four years down the road we see some trend that we don't like, we're going to have many of information to back it up."
Perhaps the most talked-about testing item after the first day was the suggestion to the overtime rules. It's no secret that the shootout debate has divided fans, with many feeling it ruins the game while others enjoy games having a clear winner and loser. To try and alleviate the argument of shootouts, one proposal is to lengthen overtime to seven minutes, going to 3-on-3 after four minutes.
"A couple of years ago we thought too many games were being undecided in overtime," Shanahan said. "Without changing many of the rules, that seemed to straighten itself out last year. This isn't about any sort of knee-jerk reaction, this is about being pro-active."
"I think it's certainly interesting to get to the 3-on-3," Blues GM Doug Armstrong told NHL.com. "I think if we want less games ending in the shootout, it's certainly an avenue we should explore, going right to the 3-on-3 and eliminate the 4-on-4."
But Lightning GM Steve Yzerman was singing a different tune.
"I prefer 4-on-4," Yzerman told NHL.com. "I'd like to keep 4-on-4. If we're going to extend it, keep it at 4-on-4. Three-on-three is not enough players on the ice, in my opinion."
The other big-discussion piece involved the removal of icing during man-down situations. Penguins coach Dan Bylsma, on the bench, decided to take that as an opportunity to explore.
Knowing the other team couldn't launch the puck the length of the ice, he pulled his own goalie to create a 6-on-4 situation. I can't imagine you would see that during the season (unless it's late in the game) as the danger of the opposing team getting the puck out of the zone is at least slim. But in Camp Shanny? Why not?
Wouldn't you know it, Bylsma's team did surrender a goal at that time when a player fell down, allowing the other squad, coached by Phoenix Coyotes head man Dave Tippett, to score.
"I was really interested in this session that when a team is short-handed they can't ice the puck," Shanahan said. "I'd like to see more of that ... the coaches were curious about and wanted to play around with. That was a good one."
This is one of the proposed rules I am not a big fan of. I understand the concept of the penalty being something a team should suffer for, but I think it handicaps them too much. I would expect power play numbers to increase significantly and my feeling it's too strong of a change. But that's why they test it.
Finally, one of the other items under examination is the reduced goal and the use of a green line to detect if the puck completely crossed the goal line. Dan Craig takes a closer look at the smaller net in this video.
Photo: Getty Images
For more hockey news, rumors and analysis, follow @EyeOnHockey and @BrianStubitsNHL on Twitter.