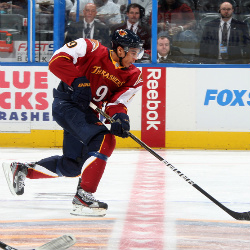 By: Adam Gretz
Finally, the debate as to which number
Evander Kane
will wear this season in Winnipeg is over.
Kane, the
Jets
20-year-old forward, will continue to wear the No. 9 he's been wearing for his entire career after former Winnipeg great Bobby Hull -- who had previously worn the number with the original Jets franchise -- gave him the permission he was looking for. It's been a hot topic of discussion for much of the offseason and was made complicated because the current Jets franchise (which has its roots in Atlanta as the Thrashers) has no connection to the previous Jets franchise (the one that currently plays in Phoenix) that retired Hull's No. 9.
Still, Kane wanted to get permission from the Hockey Hall of Famer before he continued to wear the number, and according to the
Winnipeg Free Press
, that persmission finally came.
Here's what Kane
had to say during an interview with Ed Tait of the Free Press
:
"It's very cool to be able to wear No. 9," Kane said Wednesday night in a phone interview from Vancouver. "Bobby was an outstanding player who represented the city and it's definitely a real honour to be able to wear that number. You know, I was just checking about what the organization's plans were for No. 9 and then this story seemed to become a lot bigger than I thought it would."

"And I did get the feeling from a lot of people on Twitter and others that many were encouraging me to wear it.

"I'm pretty excited just to see a jersey let alone to pull one on," Kane added with a chuckle. "It's going to be fun for all the guys that first day in the dressing room pulling on that jersey for the first time. That opening night against the Montreal Canadiens (Oct. 9)... it's a little bit away still, but it's hard not to think about it. It's going to be a real special moment in which history will be made. I can't wait."
Tait also adds that Kane had originally offered to switch to No. 91, but that the Jets encouraged him to continue wearing the No. 9.
One of Kane's teammates, forward
Bryan Little
, had a similar situation regarding his No. 10, which had also been retired by the original Jets franchise after it was worn by Dale Hawerchuk for much of the 1980s during what was a Hall of Fame career. Little ended up switching numbers and will wear No. 18 this season.
I understand why it was such a big deal, but at the end of the day neither one of these guys should have felt any obligation to switch numbers. Or to even get permission, which makes Kane's desire to get Hull's blessing seem like an extremely nice gesture on his part. Because he didn't have to do it. Even though the team has the same name, the franchise history that was created by players like Hull, Hawerchuk and Thomas Steen (his No. 25 was retired by the Jets in 1995) belongs to the
Coyotes
. There's no connection to this current team or its history.
Photo: Getty ImagesFor more hockey news, rumors and analysis, follow @EyeOnHockey and @agretz on Twitter.