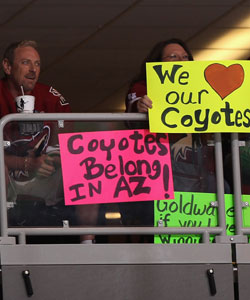 It's another day, so naturally there's another name being thrown out in the Phoenix Coyotes ownership search. I must admit, this one seems like it could be legit.
Glendale spokeswoman Julie Frisoni confirmed Friday that Greg Jamison, former Sharks president and CEO as well as current part-owner, is one of the bidders to buy the franchise and that no bonds would be sold as part of any proposed deals. She would not elaborate on the negotiations or who the other bidder was.
Last week it appeared a Canadian group was moving toward a purchase of the team that would contain an eight-year out clause that would allow them to relocate if conditions didn't improve. It made sense. It also helped substantiate a report earlier that said there were two as-of-then unnamed suitors with serious interest in buying the team.
The Phoenix Business Journal reported that Jamison is at the head of a new ownership bid to buy the team and is looking to keep them where they are. The Journal says a sales agreement is expected to be worked out very soon with the NHL, which includes money down front, giving Jamison's group exclusive negotiating rights.
ESPN.com, meanwhile, reports the talks aren't as advanced as the Journal indicates, saying that Jamison isn't poised to make an offer as of yet.
A little background on Jamison: He was the head of Silicon Valley Sports & Entertainment from 1996 until late in 2010. He still serves on the Sharks' board of ownership and also served on the NHL's executive committee. That past relationship could seriously help a bid here considering the team is now owned and controlled by the league itself. But the ownership ties with San Jose would obviously have to be severed first.
Things have certainly picked up since Matthew Hulsizer dropped out of the process. When that happened, the future was very dim in the desert as it seemed the potential suitors had dried up. But in the last week two seemingly serious and viable bidders have emerged.
As always, we have learned not to count our chickens before they hatch in this never-ending Coyotes story. But optimism is on the rise after sinking.
Photo: Getty Images
The Associated Press contributed to this report

For more hockey news, rumors and analysis, follow @EyeOnHockey and @BrianStubitsNHL on Twitter.