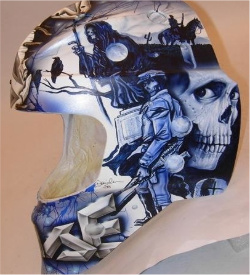 By: Adam Gretz
Steve Mason
, goaltender for the Columbus
Blue Jackets
, introduced his new mask (pictured) to the world last month and, wow, it's something else.
The incredible piece of artwork features the skull from the 1987 movie
Evil Dead II
, as well as a few other grim images on the left side, including a skeleton dressed as a civil war soldier.
The 23-year-old goaltender is still
one of the youngest players at his position in the NHL
, and following a rookie season where he quickly burst on the scene, leading the league in shutouts, winning the Calder Trophy as rookie of the year and qualifying for the Vezina Trophy, he's had some struggles the past two seasons. That's not entirely uncommon for a goalie that young, especially one that's counted on to be the unquestioned No. 1 starter.
Mason, entering his fourth season in the NHL, and his teammates are facing a big season in Columbus after an exciting summer that saw the Blue Jackets acquire forward
Jeff Carter
from the Philadelphia
Flyers
and defenseman free agent
James Wisniewski
.
I had a chance to speak with Mason on Friday afternoon about the new artwork he'll be wearing this year, as well as the 2011-12 season.
Adam Gretz:
I guess the first thing I want to ask you about is your new mask. I saw some pictures of it last month and, man, that thing is crazy. Can you tell us a little bit about what all is going on there because it kind of scared the hell out of me.
Steve Mason:
(laughs) Yeah that's kind of the feeling I was going for. The past couple of years I've been with Columbus I've had kind of cartoony stuff on there and this year I wanted to go with a different look. Kind of realistic looking pictures and kind of a scary theme.
I conversed with David Gunnarsson on a couple of emails back and forth and a couple of different sketch designs. I told him I wanted something that would give the fans a different perspective as to what goalie helmets can be about. There's a couple of skulls on there, the guy with the Blue Jacket is on there, then on the other side you have a completely different look. It has the Blue Jackets logo but it's not just a plain old logo. it kind of ties in with that scary theme.
Gretz:
You mentioned you spoke with the artist on some things, I wanted to ask you about the process for how one of these things gets completed. Is it as simple as you going to the artist and giving him an idea as to what you want and letting him come up with the design? Or do they present you with certain ideas or themes?
Mason:
Yeah, at the end of the day it's entirely up to the goaltender as to what he wants and they have pretty much free rein of their helmets, as long as it doesn't have anything derogatory on there, of course. For this season it was really all my doing, all the design thoughts and David was able to put it on a piece of paper and finally onto the helmet.
I told him what I wanted to see on the helmet, he sketched up a couple of things, and then I told him the things I liked, the things I'd like to see changed, and he put together a pretty good piece of work.
Gretz:
Yes, he really did. It's very interesting. It's certainly different.
Mason:
It is. It's unbelievable what he can do. I actually received it a few days ago. It was the first time I saw it in person, and it looks just as good as it did in the pictures. It's amazing what these artists can do today, taking life-like pictures wherever they come up with them in their mind and putting them on a goalie helmet. It's an incredible talent these guys have, and in my opinion David is probably the best.
Gretz:
Let's talk some hockey. You're only entering your fourth year but for some reason it feels like you've been around a lot longer than that. You came on the scene so fast your rookie season, and it seemed like that set expectations really high going forward. I think sometimes it's easy to forget that you're still the youngest starting goaltender in the league, and if you look around the NHL, a lot of the guys that are starting weren't even in the NHL at this age. It Just seems like that's a position that takes plenty of time to develop and there's going to be some bumps early on. Your thoughts on that?
Mason:
Yeah, absolutely, my first year was everything I could have asked for and more. I think a lot of those things came to me easier than they should have. It was one of those years where pucks just seemed to hit you, and if a guy had an open net he might have missed it.
I think I was 19 or turning 20 that year, so by far I was the youngest starting goalie in the league other than maybe
Carey Price
. It's something you have to relish and you can't take it for granted because it can be taken away from you pretty quick. For myself I just have to have the confidence to get back to that level. Obviously this is a big year for us, we made some big changes in the offseason.
Gretz:
That first season, and even into your second season, you played under Ken Hitchcock who plays a pretty defensive system, and now you're playing under Scott Arniel, who seems to play a more up-tempo style; you guys seem to want to play with the puck, get in the other zone and all of that. How different is that for you as a goaltender?
Mason:
Yeah, they're two different coaches. Ken has had a great career and I hope he gets another job soon, and with Arnie, it was obviously his first year and he was getting to know the players and they were getting to know him and his style.
They have two different systems in a lot of ways, but for a goaltender, at the end of the day your job is to stop the puck. For myself playing with Scott Arniel, his system might be a little more up-tempo where we want to control the puck more and hang on to it, where Ken's was more dump-and-chase. But again, for myself it really doesn't matter as I'm just focusing on the position and not really worrying about what's going on with the other guys.
Gretz:
You mentioned the offseason changes a little bit ago. You guys brought in Jeff Carter, who along with
Rick Nash
gives you two of the top goal-scorers in the NHL over the past couple of years, and James Wisniewski, a guy that can bring some offense from the blue line. That added offense has to make a goaltender pretty excited for the upcoming season, yes?
Mason:
Yeah it's something I'm really looking forward to. It was a huge offseason for the organization and I think (general manager) Scott Howson did an unbelievable job getting some guys that can help push us over the top and get a good playoff under our belts and keep going for our ultimate goal of winning the Stanley Cup.
I mean, with Jeff Carter you have a perennial 30-goal scorer, so for us to add that offense is going to be huge to help out Rick Nash and
R.J. Umberger
and
Derick Brassard
. So to have a guy like that coming in, a guy that's been to a Stanley Cup Final, that's going to be huge for us.
And obviously getting Wisniewski locked up for six years on the back end, a physical presence who has put up huge numbers the past couple of seasons, that's another big thing to do for our back end, and most importantly for myself to help clear rebounds and help clear guys out from in front of me. And he's played in Montreal, so he knows what it's like to play under pressure with high expectations and all that. So it was really nice to see the organization step up and go after some really sought-after players this offseason.
Gretz:
There has to be some excitement for the fans, as well, because the best, and really one of the only ways, to build a strong fan base is to win, and those are the type of additions that can help make that happen.
Mason:
Yeah, the fans are in 100 percent there in the city and the surrounding area. When we made the playoffs my first year the city really rallied itself around the organization. I think the fans have been more than patient. It's a fun spot to play and it's one of the nicest rinks in the league, and when they're filling up the building it's a loud place, has a great atmosphere, and when the team puts together a winning streak there's a definite buzz in the city, and we want to get in that spot more often than we've been.
Gretz:
And just to finish up here real quick, I see you've recently joined Twitter and fans can find you at
@1masey
. How long have you been on there, and have you enjoyed the interaction with fans?
Mason:
Yeah, the reason I got it was actually for the free agency signing period. I wasn't going be able to see everything up to the second, so that was my reason for getting it. It was just to follow all the updates.
It's been good to stay up to date in the world of hockey, and really, just sports in general. I'm not that exciting like some other guys, like
Paul Bissonnette
or players like that, but the following has been pretty cool. You get some messages from fans here and there, younger players asking questions and asking for tips, and from a player's perspective that's pretty cool, and to get some words of encouragement, so it's been really good.
Photo: Steve Mason Twitter
For more hockey news, rumors and analysis, follow @EyeOnHockey and @agretz on Twitter.