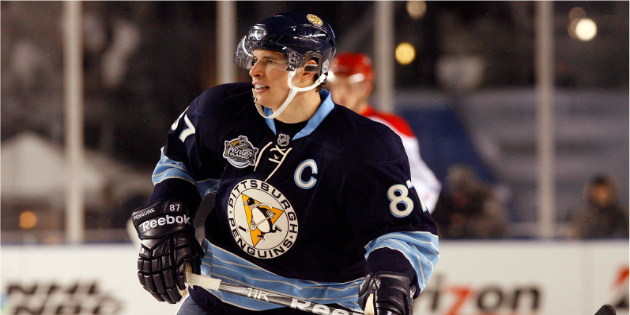 By: Adam Gretz
Are you ready for some more reports on
Sidney Crosby
's status for the start of the regular season (and yet more denials of those reports)?
If so, you're in luck, because CTV out of Halifax, Nova Scotia, reported on Monday that Crosby has suffered another setback in his recovery, stopped his workouts, and may not be ready for the start of the regular season. As expected, Crosby's agent quickly denied the report.
If you've heard this song before, it's because it's been playing on a non-stop loop for the past six months (or more).
From CTV:
Sources say Crosby's concussion symptoms returned last week and he cancelled all of his scheduled on-ice workouts at a Halifax-area rink.

Penguins players are expected to appear at training camp in mid-September and it appears Crosby will not be one of them.
Think back to last week
when a nearly identical report surfaced from
Josh Rimer of SiriusXM Radio, only to have
the Penguins quickly address it
, with general manager Ray Shero saying, "Training camp is a month away, so there's no expectation for me that he won't be ready or will be ready. He's doing his usual routine. He'll probably be in a week before camp starts. We'll evaluate him then."
This time it's Crosby's agent, Pat Brisson, doing the talking. Brisson said, via the Associated Press, that Crosby "hasn't been shut down by anyone and has instead adjusted his summer program to address the different needs for his recovery."
And 'round and 'round we go.
The fact this is still an issue at this point, with no clear idea of whether or not he will be ready for the season or how his recovery is really going, is a definite concern -- especially on the same day
a former NHL player announced his retirement
because doctors told him his concussion history made it unsafe for him to continue playing. But, as has been the case throughout this entire process, the only person that seems to have any definitive idea as to what's going on is Crosby himself, and he's not talking.
It's Aug. 22, and we don't know whether Crosby will be on the ice for the Penguins when training camp opens (let alone the regular season), and it's obvious that we won't know that for sure until he is or isn't on the ice when the Penguins open camp.
Photo: Getty Images
For more hockey news, rumors and analysis, follow @EyeOnHockey and @agretz on Twitter.