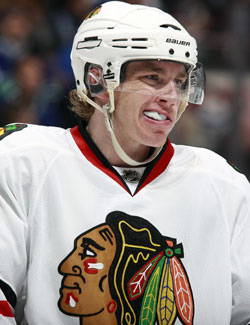 When the news came out that Blackhawks star forward Patrick Kane needed surgery on his wrist, it didn't exactly reate the wripple across the NHL the way Tuesday's tremor did on the East Coast. There was little concern it would have any impact on Chicago's season.
But the times, they are a changin'.
While GM Stan Bowman has maintained that Kane was on schedule for a return during training camp, Kane isn't as sure himself. The former No. 1 draft pick joined The Fan 590 in Toronto and talked about his own timetable for a return (H/t to Chris Koc, Chicago Tribune).
"I went to get it checked out [Monday] and everything seems to be checking in right now," Kane said. "[It was] good news [Monday]: I should be ready for the start of the season.
"I still have a little cast on so it's probably a little bit longer. I'm not really going to rush anything, we still have a lot of time. My goal is to be ready for the opening regular-season game. Obviously, you'd like to be back in training camp but more importantly the date is Oct. 7 for our first regular season game. That's kind of the date I'm working for. There's really no rush because things are going pretty well right now.
"With the wrist injury all I've really been able to do is kind of skate by myself," Kane said. "Not really with full equipment on, just kind of been skating with one hand out there. You still have to skate That's kind of part of our job in the summer is to get ourselves ready anyway we can. That's what I'm doing right now. Usually at this time of year I'd probably be skating with some of the [Buffalo] Sabres, whether it's just playing shinny or regular four-on-four games, which are always pretty fun to kind of help you get ready for the season. That's what I'd usually be doing but this summer has been a little bit different."
Well that's not exactly inspiring. Now granted, if he is going to miss any games, it shouldn't be much and he'll be back in plenty of time to help the Blackhawks in their quest to get back to the Stanley Cup Final.
Remember that Kane didn't play a completely full schedule last season either, but it didn't hamper his final numbers. He posted 27 goals and 46 assists in 73 games.
Photo: Getty Images
For more hockey news, rumors and analysis, follow @EyeOnHockey and @BrianStubitsNHL on Twitter.