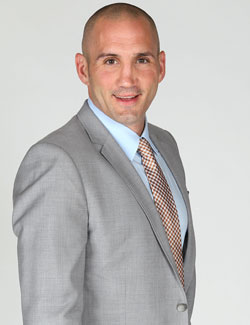 Ian Laperriere hasn't found himself too busy when it comes to playing lately. The Masterton Trophy winner hasn't played since 2009-10 because of post-concussion issues, but the 37-year-old is still finding work.
Over the summer, Judd Apatow -- the man behind funny flicks such as Knocked Up, The 40-Year-Old Virgin and Talladega Nights: The Ballad of Ricky Bobby among many others -- was working on the follow up to Knocked Up called This is Forty when he had a part that called for a toothless man in a bar. Well when you want to find a relatively young, toothless person, where better to look than hockey?
Thanks to an official with the Flyers, Apatow and Laperriere were able to connect and the role match couldn't have been more perfect with a casting call.
The part called for a few hockey players going into a bar after a game and having some with the toothless player's false teeth. To fill in the rest of the roles, Laperriere was able to snag fellow Flyers Matt Carle, James van Riemsdyk and ex-Flyer Scottie Upshall, now with the Panthers. Dan Gross at philly.com has the full story (h/t to Puck Daddy):
"I made a fool of myself, but it was fun," Lappy told us yesterday. "I like to try different things."
It might be a good fit. As you can see from above, Laperriere already has the red carpet look down.
The flick isn't scheduled to be released until December of 2012, so you have a while before seeing the Flyers on the big screen. But if you need any other reasons to go see the movie when the time comes, it will star Megan Fox.
Photo: Getty Images
For more hockey news, rumors and analysis, follow @EyeOnHockey and @BrianStubitsNHL on Twitter.