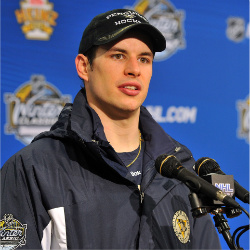 By: Adam Gretz
As the
Sidney Crosby
concussion saga has unfolded over the past couple of months there's been a lot of discussion and speculation regarding his status. Most of the talk has come from his agent, his team and media reports, with little actually coming from Crosby.
Earlier on Wednesday
Dejan Kovacevic of the Tribune Review
and
Sportsnet's Jeff Marek
both made their case for Crosby to break his silence and give an update straight from the horses mouth.
On Wednesday evening the
Penguins
website offered yet another update on Crosby's recovery, including a quote from their captain -- which didn't really tell us all that much -- as well as an update that several of the leading concussion experts that he's been seeing expect him to make a full recovery. Eventually.
Said Crosby,
via the team release
, "I appreciate all the support I've received from my family, friends, teammates and fans and from the entire Penguins organization. I know they only want the best for my health, and for me to be fully ready when I return to game action."
Surely you weren't expecting anything different at this point.
The release did, however, seem to address the altered offseason workouts we recently heard about:
Crosby, who suffered a concussion in January and missed the rest of the 2010-11 season, made significant progress over the summer and took part in his normal, rigorous off-season workout program – including skating, shooting, stickhandling and off-ice work.

When he got to 90 percent exertion in his workouts, however, he started having some headaches again. At that point, his doctors and trainers altered his workouts accordingly.
Crosby's agent, Pat Brisson, is also quoted in the statement, saying "We always knew this was going to be a progressive recovery – based on how he felt. With a concussion, there is not a finite recovery period like with a shoulder injury or a knee injury. That's why we've never even set a specific goal for a return date like the start of training camp or Oct. 1 or anything else. He will play when he is symptom free."
And that obviously hasn't happened yet. But again, we're still over a month away from the start of the regular season, so there's still time for him to be ready when the puck drops in October. But we are running out of time. And as Brisson points out in the statement, and this is still the most important thing in all of this, dates aren't the issue -- it's all about how Crosby feels.
The fact that he's still seeing specialists -- the statement claims he recently saw specialists in Georgia and Michigan -- and experiencing headaches when he reached 90 percent exertion has to be concerning on some level, even if the specialists still expect a full recovery.
We just don't know when that's going to be.
Photo: Getty Images
For more hockey news, rumors and analysis, follow @EyeOnHockey and @agretz on Twitter.