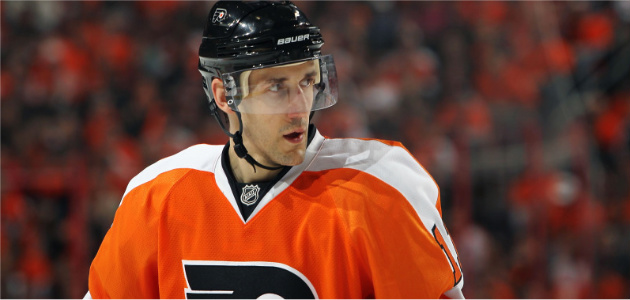 By: Adam Gretz
There's a good chance
Blair Betts
won't be selected in many fantasy drafts this season.
He's spent parts of nine years in the NHL with the Calgary
Flames
, New York
Rangers
and Philadelphia
Flyers
, scoring just 41 goals in 477 career games. Nothing that really stands out as an extraordinarly productive hockey player, at least from an offensive point of view. But his role -- and his value -- can't be appreciated by simply looking at how many goals he scores, because he's rarely in a positition to score them.
Or asked to score them.
There are certain players in the NHL that have a specific skillset that allows them to fill one primary role which occupies the majority of their time on the ice. It could be as a power play specialist (a player like
Marc-Andre Bergeron
), a fighter (a player like
George Parros
), or in the case of Betts, a penalty killer.
In a typical game Betts will play no more than 10 minutes. During this past season, for example, Betts averaged just under 10-and-a-half minutes per game, with a large portion of that time coming in shorthanded situations. While averaging less ice-time than every regular forward on the Flyers not named
Jody Shelley
and Dan Carcillo, Betts not only led all Flyers forwards in shorthanded ice-time per game, he led every forward in the NHL.
Even more than that, the 30-year-old Betts spent a larger percentage of his ice-time killing penalties than any other forward in the NHL. By a wide margin.
During the 2010-11 season Betts spent over 34 percent of his total ice-time playing in situations with his team was down a man. To put that in perspective, if you were to look at the top-25 forwards that averaged the most shorthanded ice-time per game last season, the next closest forward was Anaheim's Todd Marchant at just over 27 percent. Betts' teammate,
Darroll Powe
, Edmonton's
Colin Fraser
and Pittsburgh's
Craig Adams
all came in at just over 25 percent.
Here's how the top-10 looked:
Penalty Killing Specialists
Player
Shorthanded Ice Time
Total Ice Time
Shorthanded Percentage
Blair Betts
271:46
783.50
34%
Todd Marchant
285:08
1,049:59
27%
Darroll Powe
257:16
995:12
25%
Coiln Fraser
177:35
688:29
25%
Craig Adams
247:11
974:56
25%
Darren Helm
251:11
1,091:08
23%
Patrick Eaves
169:36
799:55
21%
Liam Reddox
130:38
659:50
19%
Lauri Korpikoski
239:21
1,226:44
19%
Max Talbot
239:50
1,235:34
19%
Since becoming a regular NHL player with the Flames during the 2003-04 season, he's consistently been one of the top penalty killing options on every team he's played on, with those units typically finishing near the top-10 in the league (the average finish of the team's he's played on in penalty killing percentage has been 9th).
It can be an extremely valuable, but thankless, role that doesn't bring much attention, and few players do it as often -- or as well -- as Betts.
Photo: Getty Images
For more hockey news, rumors and analysis, follow @EyeOnHockey and @agretz on Twitter.