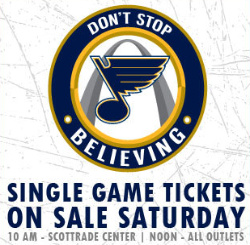 By: Adam Gretz
The St. Louis
Blues
have a new marketing slogan (pictured to the right) in an effort to move tickets for the 2011-12 season, and it involves the words "Don't Stop Believing."
You've probably heard those words before. They were made famous in a Journey song that has been the unofficial anthem for more than one sports team over the years, including the 2005 World Series Champion Chicago White Sox (
Do you want to watch them awkwardly sing it? Sure you do
).
In the NHL, the song has become a staple at Joe Louis Arena, home of the Detroit
Red Wings
, as fans become a part of the sound
by joining in the singing of the lyrics "born and raised in south Detroit."
It's that connection that has some Blues fans just a little unhappy. Example:
the folks at Blues blog St. Louis Gametime
(check out the comments for some of the heated reactions). The Twitter hashtag
#betterbluesslogans has also provided a few laughs
, while Red Wings find the whole thing
rather comical
.
Why is everybody in St. Louis so unhappy? Because the Red Wings are a heated divisional rival of the Blues, and building an ad campaign around something that's synonymous with a team that plays in your own division, and has finished ahead of you in the standings 10 years in a row, probably isn't the best way to rally the locals.
(On a semi-related note, I've always wondered why Red Wings fans love the connection when the reference to Detroit in the song is about a guy that's
leaving
the city on "the midnight train going anywhere." But I suppose that's another discussion for another day).
Photo: blues.nhl.com
For more hockey news, rumors and analysis, follow @EyeOnHockey and @agretz on Twitter.