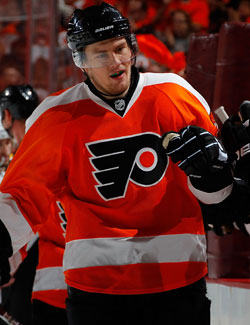 The Philadelphia Flyers have re-signed young forward James van Riemsdyk to an extension, helping them bypass restricted free agency next season.
While the team didn't say how long the contract is for other than being a multi-year deal, Van Riemsdyk spilled the beans himself, tweeting about his delight of the deal.
"Excited to sign a 6 year extension with the @NHLFlyers, love playing in Philly," Van Riemsdyk said. "Want to thank mr snider and flyers management for treating me well and showing confidence in me #firstclassorganization."
Scott Burnside of ESPN reports the deal is for $25.5 million over the six years or an annual cap hit of $4.25 million. That's a pretty hefty deal for JVR at this point, but obviously they are investing in what they think he will become, not who he is now.
A deal at that length will help the sides avoid the restricted free agency process altogether, surely a welcome result for both parties. As this summer has reminded, that can be an ugly fight. Already under contract for next season, the deal will keep JVR in black and orange until he's nearly 30.
The 22-year-old New Jersey native has shown plenty of promise in his two seasons in Philly. Last season he scored 21 goals and chipped in 19 more assists in the regular season before scoring seven goals in 11 games for the Flyers in the playoffs. He will be one of the players called on to help fill the scoring void left by Mike Richards' and Jeff Carter's exits.
It's been a good summer for JVR. First there was the appearance in an upcoming Judd Aptatow film, now this. Not bad for the offseason.
A native of the Jersey shore, Van Riemsdyk grew up a fan of the Rangers. Not any more.
Photo: Getty Images
For more hockey news, rumors and analysis, follow @EyeOnHockey and @BrianStubitsNHL on Twitter.