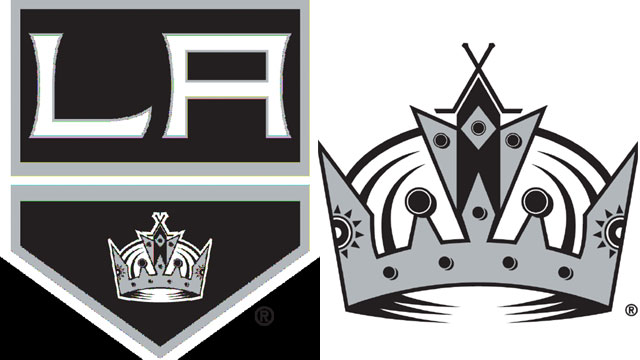 The Los Angeles Kings have streamlined their logo, cutting out the very regal color purple from their logo and uniforms for next season.
They have featured uniforms recently where the color purple was pretty much not noticed and the new logo was the centerpiece on the sweater. But some of the other logos and uniforms will disappear, such as the white sweater with purple shoulders and arm bands.
It will be retained just a little bit, however, in the team's third jersey. From Helene Elliott at the L.A. Times's twitter feed:
"ok, to clarify after speaking with Kings PR: purple-dominated 'vintage' jersey, worn 4 times last year, will be worn 3 times this yr at home. however, purple will otherwise be downplayed. won't be in primary home jersey. will be in 3d jersey, which was last year's primary jersey. no purple at all in kings' new white road jersey."
Now the team takes a step back toward the Gretzky era jerseys where it was just black and white. Everybody remembers this logo, right? It's soooo NHL '94 for the Super Nintendo.
Having purple in their logo/uniform made them unique, but surprisingly not many teams feature just black and white, so it's not as if they are going to be confused for other teams now. But at least some of that recognizability will be missing.
What says you; like nixing purple from the unis? I'll say this, at least it takes them a step away from the NBA's Kings, who have been abysmal for nearly a decade now sporting their purple. So that's a plus.
Photo: reporterchris twitpic, courtesy of the Kings
For more hockey news, rumors and analysis, follow @EyeOnHockey and @BrianStubitsNHL on Twitter.