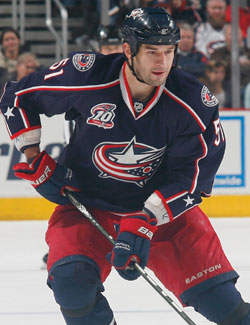 The Columbus Blue Jackets signed defenseman Fedor Tyutin to a six-year extension on Wednesday morning, giving him $27 million in the deal. As is often the case with the Blue Jackets, GM Scott Howson broke the news on Twitter.
"Pleased to announce 6 year extension for Fedor Tyutin. Fedor has been our top dman since we traded for him. He signed the deal this morning."
Aaron Portzline at the Columbus Dispatch had a little more information on the contract, dishing out the financial numbers.
"Tyutin's deal begins in 2012-'13: 4.0, 4.5, 4.75, 5.0, 4.75, 4.0. It includes a no-trade clause in first 3 years, a modified NTC in final 3."
With Tyutin locked in for some time, the Jackets have a pair of top defensemen who have plenty of time to get acquainted and become a cohesive unit. The other, of course, is James Wisniewski, the high-priced free agent they landed first thing right away in the free-agency period. His contract was also a six-year deal. That gives the Blue Jackets four players with deals that extend six years or longer, joining Rick Nash and Jeff Carter in the forward corps. Clearly Howson believes all of these players are the building blocks to get competitive in the West.
Tyutin has provided a solid game for the Jackets since coming over from the Rangers in a trade that netted New York Nikolai Zherdev among others. In his seven seasons split between the two teams, he has logged plenty of ice time, holding a career average of 21:46 per game. He provides decent offensive numbers (7 goals, 20 assists last season), but when he's with Wisniewski, you have to figure the majority of the puck moving will be the Wiz's responsibility.
Photo: Getty Images
For more hockey news, rumors and analysis, follow @EyeOnHockey and @BrianStubitsNHL on Twitter.