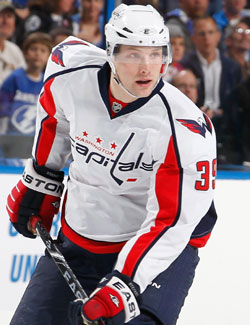 David Steckel was a member of the Washington Capitals up until March of last year, so he knows a thing or two about a couple of the bigger stories/dramas of the hockey summer.
Skating at the Caps practice facility as he and his wife are back in the District to try and sell their Virginia house, Steckel took a little time to talk with the Washington Post's Tarik El-Bashir about a few lingering items. One regards the health of Sidney Crosby, the other the criticism levied on Alexander Semin by former Caps enforcer Matt Bradley.
First, to the Crosby treatment. Remember, it was Steckel that hit Crosby in the Winter Classic, rendering the Penguins star concussed. Since then, the argument has raged of whether or not it was a dirty play or intentional. Steckel, now with the Devils, says neither is the case.
"I had no intent to injure him. I feel just as bad as anybody. I don't want to see anybody out of the game for that long. It's bad enough with everything that's going around with other guys [and] head [injuries]. It's just so uncertain. I feel bad. I wish him the best. I don't wish that upon anybody."
Here's the hit heard 'round the NHL world in case you need a refresher.
To me it never appeared to be a malicious hit by any stretch. It appears to be an unfortunate accident. But it's certainly a debatable topic and the true verdict is always in the eye of the beholder in such situations.
However the majority of the talk with El-Bashir centered on Bradley's remarks about Semin, ya know the ones that Semin "just doesn't care?" Well here's what Steckel had to say on Wednesday.
"It's not like he went out and told lies," Steckel said. "[He] didn't really say anything bad about anybody. He just stated what he felt. ... I don't have anything to say on what Brads said except that he was spot on. He mentioned Ovi, too, just not on a negative side. He hit it on the head for both guys."
It's nowhere near as inflammatory as the route Bradley took, but it's still no ringing endorsement of Semin.
Photo: Getty Images
For more hockey news, rumors and analysis, follow @EyeOnHockey and @BrianStubitsNHL on Twitter.