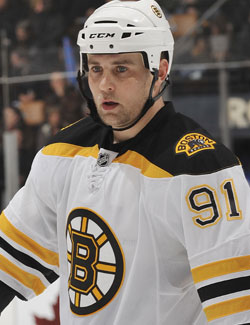 Bruins general manager Peter Chiarelli brought some sobering news to a festive offseason for Boston, saying that Marc Savard isn't expected to play in 2011-12 at all. Moreover, the team is assuming the forward's career is finished.
From the Boston Globe Bruins Blog:
"Marc Savard won't play this year," Chiarelli said. "Nothing has changed in our monitoring. He'll be examined and he'll be declared unfit to play.
"Based on what I see, what I hear, what I read, and what I'm told, it's very unlikely Marc will play again," Chiarelli continued. "Now, knowing the uncertainty of this injury, there's always a chance [he could play]. But based on what I'm told, it's very unlikely he'll play. As an employer, I support him and hope he gets back to living a healthy life."
There's been little bad news for Bruins in the past few months. Obviously that changed with the announcement.
It's terrible news. You don't ever want to see a player's career ended short this way. Unfortunately, it doesn't come out of the blue as a total shock. Savard has spent a good part of the past few years dealing with concussions. He first took one on the controversial blindside hit from Matt Cooke that helped the NHL move forward in eliminating the hits from the sport.
He eventually returned but suffered a second concussion in February of this season. Since then he has continued to struggle with post-concussion symptoms and it appears nobody is willing to let the 34-year-old Savard get back on the ice.
Only defenseman Zdeno Chara is under contract with the Bruins for longer than Savard, who still has six seasons at more than $4 million per left.
It wasn't long ago that Savard was at the top of his game. In 2008-09 he played a full 82-game slate with the Bruins and had 25 goals with 63 assists. His best season came while in Atlanta when he scored a career-high 28 goals and had 69 assists for a 97-point season.
Photo: Getty Images
For more hockey news, rumors and analysis, follow @EyeOnHockey and @BrianStubitsNHL on Twitter.