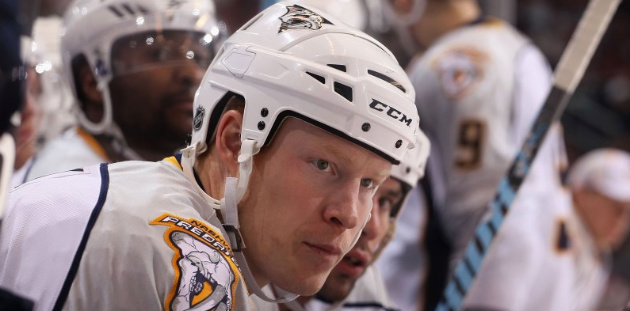 By: Adam Gretz
What has been an incredibly sad offseason in the NHL continued to get worse with the news that recently retired defenseman
Wade Belak
was found dead in a Toronto condo on Wednesday afternoon
according to the Toronto Sun
. He was 35 years old.
Belak, selected 12th overall in the 1994 Entry Draft by the Quebec Nordiques, spent 14 seasons in the NHL as a member of the Colorado
Avalanche
, Calgary
Flames
, Toronto
Maple Leafs
, Florida
Panthers
and, most recently, the Nashville
Predators
. In 549 career games he scored eight goals and tallied over 1,263 penalty minutes.
He announced his retirement back in March.
On Wednesday evening the Predators organization
released the following statement
:
"The entire Nashville Predators organization and family is shocked and saddened by the sudden and untimely passing of Wade Belak. Wade was a beloved member of the organization, a terrific teammate and wonderful father and husband. He will be greatly missed. Our thoughts and prayers go out to his wife Jennifer and children Andie and Alex. We offer our full support to them at this very difficult time."
Belak's name was in the news earlier this month when it was announced that he was going to appear in CBC's Battle of the Blades, which is basically Canada's on ice version of Dancing With The
Stars
His primary role in the NHL was as an enforcer and fighter, which will make it easy for everyone to immediately connect his death to the recent passings of Derek Boogaard and Rick Rypien, both of whom were also fighters. Whether there's any connection or not, it's been a very disturbing couple of months.
According to Hockeyfights.com Belak was involved
in over 125 fights during his NHL career
.
I never met Belak or had an opportunity to speak with him, but just about every person that did meet him and work with him throughout his 15-year NHL career has shared pretty much the same opinion on Wednesday night: He was an amazing person to be around and always -- always -- a fantastic player to interview.
You can find plenty of examples of his personality on YouTube, including just about every episode of the "Wade a Minute" segment that was filmed during his tenure with the Toronto Maple Leafs. Here are a couple of examples:
Photo: Getty Images
For more hockey news, rumors and analysis, follow @EyeOnHockey and @agretz on Twitter.