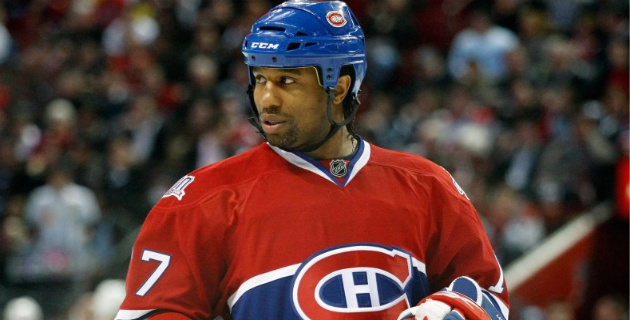 By: Adam Gretz
Georges Laraque spent 12 seasons in the NHL with one specific role: fight. He appeared on TSN Radio on Wednesday afternoon and spoke about how much he hated that role and hated promoting violence, but did it because it was his job. Following the death of
Wade Belak
later that day, he spoke to the
Toronto Sun
and called for the NHL and NHLPA to establish some sort of counseling for fighters.
Said Laraque
: "Listen, they have to step up. Now more than ever, people have to realize that the job that we did is a really stressful job. Mentally, it's one of the hardest things. There's so many guys that have demons and problems with that. We have to do something.
"This, as sad as an incident that it is, is tainting the image of the NHL. If we don't do something about it, it's going to be bad. It's not going to be safe anymore. It's unbelievable."
The easy connection here is to automatically associate the three recent NHL deaths (Derek Boogaard, Rick Rypien and Belak) with fighting because all three shared the same role on the ice. We still don't know what impact their role had on their untimely deaths (or if their role on the ice was a symptom of an underlying issue that already existed long before they were in the NHL). This isn't just about fighters or fighting. Both sides (the pro-fighting side and the anti-fighting side) have their own agenda on the subject and it does nothing but clutter everything up with noise at this point.
The issue is why players -- all players, not just fighters -- can't get (or aren't getting) the help they desperately need. Anything that involves any sort of anxiety, depression or therapy still has plenty of stigma attached to it in society in general (and it shouldn't). But it has to be even worse in sports, an industry where everything happens (good and bad) in the public eye.
I've never had depression, so I can't speak as to what it's like, and I certainly don't work under the same spotlight professional athletes do, but I have had my own anxiety issues (OCD tendancies) since late high school/early college. Once I realized it was happening (like, for example, having to turn the car around, drive back home and re-check the same locks that I had systematically checked before, or making sure the stove was still turned off or the toaster was still unplugged) it took me a while to finally admit it and talk about it. I'm not going to lie and say that it was easy to start telling people about it -- because it wasn't -- but finally doing so turned out to be a huge step in facing it and working to overcome it.
It's nothing to hide from or be embarrassed about. Anxiety and depression issues are more common than most people realize, and often times go unnoticed or unreported. Why wouldn't that happen in sports, too? You're dealing with an environment where any potential flaw has the possibility of being used against you by an opponent, a drunk heckler behind the penalty box or, hell, even a potential employer. How difficult would it be for a person in an industry like professional sports where the pressure is immense and the spotlight is constantly on you? And what about a player that's sitting in a pre-draft meeting getting grilled by an executive? Is there a fear that if something like that is revealed it will hurt his chances of being selected or given a contract?
Following the death of Rypien, Vancouver general manager Mike Gillis
spoke about how he and the
Canucks
organization were going to continue Rypien's fight against depression. It's a worthy fight that demands more attention than it's currently getting, in society, in sports ... everywhere. Here's hoping he and the Canucks (and the NHL and NHLPA) are not only successful at improving the way these situations are handled, but also changing the culture so that players with a problem are more comfortable and willing to seek out the help they need.
A friend of mine that works in the psychology field (you can check out his website, Psychotherapy Brown Bag, by clicking right here) asked me to include the national suicide prevention lifeline if you or anyone you know is experiencing thoughts of suicide. Please call 1-800-273-TALK for free, anonymous help that is available 24/7.Photo: Getty Images
For more hockey news, rumors and analysis, follow @cbssportsnhl and @agretz on Twitter.