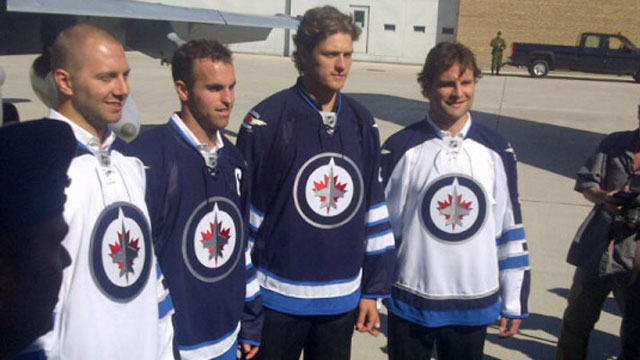 After many months and countless leaks, the Jets finally let their new jerseys fly, unveiling them to the public on Tuesday.
In a dramatic unveiling, four Jets players stood in the back of a military transport plane which was slowly opened. Think Close Enounters of the Third Kind when the UFO opens.
In the end, the jersey comes out pretty similar to what you would have expected. Both of the sweaters simply have the team's emblem in the middle with a couple of stripes around the elbows and at the bottom of the sweater. Sticking with the design, the home jersey is a navy blue to complement the white road uniforms.
Putting this into perspective, they jammed a very lengthy process into a very accelerated time frame to have this done. Considering the team name wasn't even decided until a few months back, the sweaters came out pretty quickly, but still long enough to drum up intense excitement to see what the rebirth of the Jets will look like. In most situations, jersey designs can take well over a year before being released.
Photo courtesy of @NHLJets twitpic
For more hockey news, rumors and analysis, follow @EyeOnHockey and @BrianStubitsNHL on Twitter.