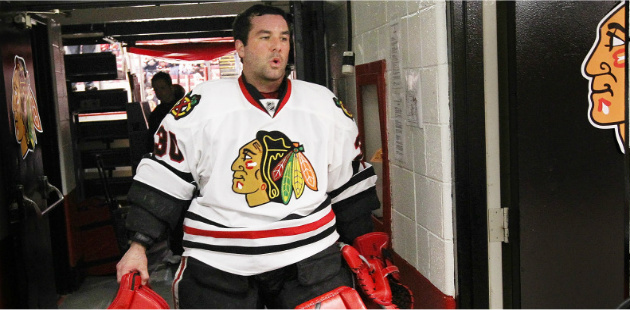 By: Adam Gretz
Training camps are set to begin next week and Marty Turco is still without a team. I wrote about Turco's situation, as well as a few other veteran goaltenders that were still looking for work,
back in July and wondered
where (or if) players like him could still fit in, seeing as how nearly every team in the league appeared to be set in the crease.
Now that we're into September, not much has changed, and Turco is still searching for a club.
To this point we haven't really heard much about Turco's plans, whether he intends to keep playing or if he will simply call it a career and announce his retirement. That changed on Tuesday when he spoke to Jesse Rogers of ESPN Chicago and confirmed that he still wants to, and thinks he still can, play in the NHL this season, and isn't quite ready to move into the broadcasting booth or any other post-hockey endeavor.
From Rogers
:
Turco's hopes probably reside on a training camp injury or underwhelming performance either by a rookie or other veteran. "I want to play some more," Turco said. "I still think I can play in this league. I'm not ready for plans after hockey just yet."
And that's probably what it's going to take -- an injury or underwhelming performance by a goaltender that's considered a question mark headed into the season. Every team in the NHL has at least two goaltenders signed to an NHL contract for the upcoming season, and in recent weeks veterans like Ray Emery (Chicago) and Manny Legace (Vancouver) have accepted tryout contracts with no guarantees, and in the case of Legace, a seemingly slim chance of sticking with the NHL club.
Turco signed with the Chicago
Blackhawks
late last summer after the club walked away from
Antti Niemi
's arbitration ruling. He opened the season as the starter, struggled, and appeared in just 29 games, the second lowest number of his career (the lowest was his rookie season as a member of the Dallas
Stars
). By the middle of the season rookie
Corey Crawford
had taken over as the No. 1 goalie with the Blackhawks and not only held that spot through the playoffs, but also managed to get
a three-year contract extension
as a result of his promising play.
The one team that might stand out as a possible destination for Turco -- and this is nothing more than a guess at this point -- is the Columbus
Blue Jackets
.
Steve Mason
is entering his fourth season in the NHL and has regressed a bit from his standout rookie season, while the only player behind him on the NHL roster is 25-year-old
Mark Dekanich
, a minor league standout in the Nashville
Predators
organization that has appeared in just one NHL game. If things go poorly with that situation a player like Turco might be an option as a stop-gap.
Photo: Getty Images
For more hockey news, rumors and analysis, follow @EyeOnHockey and @agretz on Twitter.