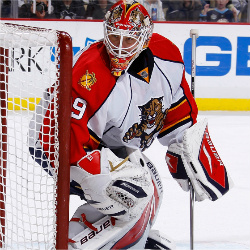 By: Adam Gretz
It's not often that you hear about a player turning down a contract offer from the Detroit
Red Wings
because another team gives him a better opportunity to win the Stanley Cup.
It usually works the other way around, seeing as how the Red Wings have appeared in five of the past 14 Stanley Cup Finals, winning four of them.
For example: Prior to the 2008-09 season
Marian Hossa
, who had been on the losing end of the Stanley Cup Final the previous season as a member of the Pittsburgh
Penguins
(against the Red Wings), turned down more lucrative offers in free agency to sign a one-year deal with Detroit because that was the team he felt gave him the best chance to win. As it turned out, his decision didn't work out for him that season (the Red Wings ended up losing to the Penguins) and Hossa would have to wait another year to eventually get his ring as a member of the Chicago
Blackhawks
.
Earlier this offseason former
Panthers
goalie
Tomas Vokoun
signed a one-year, $1.5 million deal with the Washington
Capitals
, which seems like an incredible value for Washington since the 35-year-old Vokoun has been one of the better goalies in the league in recent years.
On Tuesday, he spoke with Tarik El-Bashir of the
Washington Post
and confirmed that he had turned down an offer from the Red Wings because he felt the Capitals roster this season is closer to winning the cup, as well as family considerations (he said it would be easier for his family to visit Washington than Detroit, while the Capitals have an easier travel schedule).
Of all the reasons given, the opinion that Washington is closer to a Cup certainly stands out.
From the Post
:
"Looking at Washington's lineup compared to Detroit, they are comparable teams," Vokoun said. "But Detroit in last 10 years won three times Stanley Cup. And Washington never won it. But that's a lot better challenge for me and the team, to be able to do something special."

He later added: "My belief is this team has a better chance to win than Detroit does. And they showed a lot more interest, so that was the key for me, too."
Vokoun didn't specifically address it, but it might also be worth pointing out that the starting job may have been easier to obtain in Washington (where
Michal Neuvirth
was the returning starter) than it would have been in Detroit (
Jimmy Howard
). Both teams are likely to be at the top of their respective conferences when the regular season ends, so it all comes down to the playoffs.
On paper the Capitals seemingly have everything a team would need to not only contend for the Cup, but also win it. They can score, they have one of the best offensive-defenseman in the NHL (
Mike Green
) and added some nice role players this offseason with
Joel Ward
and
Troy Brouwer
, to go along with Vokoun, a legitimate No. 1 goaltender in recent years. But it seems like we've been saying that for a couple of years now, and the playoff record is what it is. They've won their division in each of the past four seasons, finishing as the top seed in the Eastern Conference two years in a row, but have managed to get out of the first round only twice over that stretch, and never beyond the second round.
They
should
be close to winning it, and perhaps Vokoun is one of the missing pieces to getting them there.
Photo: Getty Images
For more hockey news, rumors and analysis, follow @EyeOnHockey and @agretz on Twitter.