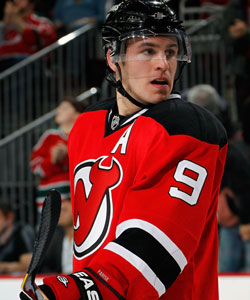 The speculation was rampant when Zach Parise re-inked with the Devils for just one season.
You could hear the panic out of New Jersey. The anticipation was equally as loud from fan bases all across the NHL, hopeful for a shot to get one of the game's young Stars next offseason.
Well everybody can calm down. Parise talked about his offseason negotiations at the media tour in New York City today, saying in no way does the short contract indicate a desire to leave New Jersey. From NHL.com:
"We talked about both," Parise said of discussing short- and long-term deals. "Without getting into too much detail with respect to everyone involved, we came down to that and that made the most sense. We said it right after we signed it, that we were going to keep talking. It's not as if we're not going to talk until next June 30. We'll keep going and keep working on it.
"I know people's initial reactions are, 'Oh, it's one year and get out of there.' But that's not how it went down, that's not how it worked out. We'll keep trying to figure it out."
Until last season, Parise had avoided injuries throughout his six-year career. But surgery on his knee limited him to just 13 games last season. But go back to 2008-09 when Parise scored 45 goals with 49 assists -- he has scored more than 30 goals in each of his past four full seasons -- and you can understand why he is so coveted.
If he is able to return from the surgery and show his old form once again, it will go a long way toward getting the Devils back into the playoff picture after a staggering fall last season. Oh, and he'll ensure he'll get the handsome salary that's been coming his way.
Photo: Getty Images
For more hockey news, rumors and analysis, follow @EyeOnHockey and @BrianStubitsNHL on Twitter.