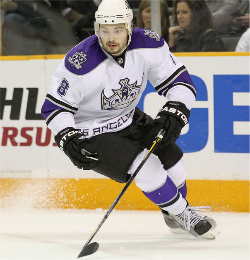 By: Adam Gretz
There are still a small number of restricted free agents yet to sign a new deal with their respective clubs, and perhaps none are bigger than Los Angeles
Kings
defenseman
Drew Doughty
. Training camp is just around the corner, and with each passing day it's looking more and more likely that the young standout may not be signed on time, a situation
that was discussed back in early August
.
Earlier on Thursday Helene Elliot of the
Los Angeles Times
tweeted that Kings general manager Dean Lombardi and Doughty's agent, Don Meehan, have agreed that
they won't publicly comment on the negotiations
(with no deal appearing imminent), while it's also expected that the 21-year-old defenseman
will not attend the team's hockey fanfest
this upcoming weekend.
That news was eventually followed by Sportsnet's Nick Kypreos asking where the Kings go now that Doughty has reportedly turned down multiple offers, including
a potential nine-year, $61.2 million contract
.
Assuming that offer was on the table, it would have matched
Anze Kopitar
for the largest average annual salary ($6.8 million) on the team. It also would have put him in the top-20 among
all
NHL salary cap hits, and
fourth among defensemen for the 2010-11 season
, trailing only Nashville's
Shea Weber
, Florida's
Brian Campbell
and Boston's
Zdeno Chara
.
Doughty, who turns 22 in December, is coming off a season that saw him score 11 goals and 29 assists in 76 games, a decent drop from the previous season when he recorded 59 points from the blue line.
When you're talking about a contract, especially with a player as young as Doughty, you're not just paying for what the player has done (and when you're looking at a player like Doughty you're dealing with a player that's already a bright young star in the NHL) but also what the player will do in the future. There's projection involved, and for as good as Doughty already is, he's likely to get better for at least a couple of more years.
Is that worth making him one of the five-highest paid defensemen in the NHL at this point?
The Kings were willing to go to nearly $7 million on a contract for Kopitar after three seasons (the same point in his career that Doughty is) when Kopitar probably wasn't held in as high a regard among other forwards across the league as Doughty currently is among other defensemen. So it shouldn't seem that outrageous that numbers like this are being kicked around.
In the end, I still think something that falls somewhere between the cap hit
Keith Yandle
received earlier this summer, and the $7 million mark that has been topped by a small handful of defensemen is a more than fair average annual salary for what Doughty has already accomplished, and what he should accomplish in the near future.
There is still time to work something out and get Doughty signed before any of training camp (or worse, actual regular season games) is missed, but it does appeare to be running out.
Photo: Getty Images
For more hockey news, rumors and analysis, follow @EyeOnHockey and @agretz on Twitter.