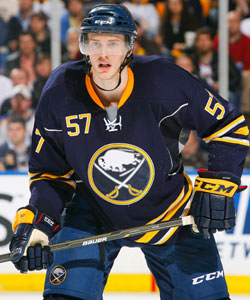 According to reports, the Sabres are close to locking down their young star Tyler Myers with a long-term extension. He is set to become a restricted free agent after next season when his entry-level contracts expire.
TSN's Bob McKenzie says Myers' deal would likely be in the six-year range for roughly $5.5 million per season, about the same length and money the Islanders just gave to John Tavares. Although Myers could be looking at an additional year onto the six years thrown out by McKenzie, according to ESPN.com's Pierre LeBrun.
Myers made an immediate impact in the NHL, earning the Calder Memorial Trophy for the league's top rookie. Standing 6-feet-8, he is a massive presence, who almost seems stronger than even he knows. His offensive numbers did dip a bit in his second season, recording 10 fewer assists and one less goal, but he's still seen as a huge part of the team's plan moving forward (literally and figuratively). Myers attributed his step back last season to trying to do too much.
If it goes through, it would be a pretty hefty price tag and the Sabres would clearly be banking on Myers showing his freshman year form again down the line.
A couple of other contract updates while we're at it here:
• The Maple Leafs appear to also be on the verge of a deal with their young star Luke Schenn (Toronto Sun)
• However the Coyotes and Kyle Turris don't appear to be any closer to an extension in their negotiations. (Andy Strickland)
Photo: Getty Images
For more hockey news, rumors and analysis, follow @EyeOnHockey and @BrianStubitsNHL on Twitter.