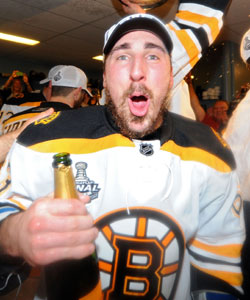 Brad Marchand can grab another bottle of champagne and toast to a new contract.
The Boston Bruins avoided a holdout with the restricted free agent, signing the young winger to a two-year deal on Wednesday. The contract is reported to be worth $5 million total by numerous reports.
"I wanted to be here first day. I wanted to show I wanted to be here ... now we can just move forward," Marchand said. "I never was going to miss a day of camp."
The deal had been in the works all summer long with Marchand and Bruins GM Peter Chiarelli repeatedly saying neither was concerned a deal would be reached. It took almost until the start of training camp, but they were ultimately proven right.
"Brad's always told me that he wanted to be here...I had a feeling it would get done," Chiarelli said.
It comes as a touch of a surprise that the contract a) is for only two years and b) for that low of a salary. An annual cap hit of $2.5 million isn't what I expected Marchand to hit, especially considering the deal the Flyers gave to James van Riemsdyk. A short while back we detailed how similar Marchand and Van Riemsdyk have been in their short careers -- nearly identical -- and assumed their new contracts would be equally similar.JVR signed for four years at an annual average of $4.25 million, or nearly double that of Marchand.
Although perhaps the comparison that Chiarelli was working on was with the Sharks' extension of Logan Couture. With him, San Jose drew up a similar two-year contract with their high-scoring youngster, signing him for $5.75 million total. Considering Marchand's numbers don't quite match Couture's, those seem to be in balance.
Either way, I like the deal from Boston's side a lot. It essentially gets two more years (and will still retain his rights under the current CBA when this new contract expires) for a relatively low price to further evaluate, largely avoiding the risk of a bad contract.
"I am very happy with the term ... I think it was a perfect fit for both parties," Marchand said.
Marchand was still technically a rookie last season after recording just one assist in 20 games in the 2009-10 season. But last year he was with the Stanley Cup champions from the start, scoring 21 goals with 20 assists in 77 games, but then really stepping up his game in the playoffs. That's when he had 11 memorable goals and eight assists for Boston as it ended its long Cup drought.
With Marchand officially back, the Bruins return nearly the entire roster that won the championship last year. Moreover, Chiarelli has saved himself roughly $5 million in salary cap space (capgeek.com) if he decided to make any midseason acquisitions to help the B's repeat.
Can you say preseason Stanley Cup favorites?
Photo: Getty Images
For more hockey news, rumors and analysis, follow @EyeOnHockey and @BrianStubitsNHL on Twitter.