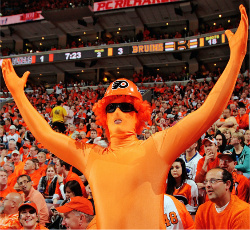 By: Adam Gretz
Philadelphia sports fans have a tough reputation, and I'm not talking about some tired, overplayed story about booing Santa Claus over four decades ago. They have high expectations, not only in terms of on-field success, but in the way they expect players to play. They can be a tough crowd, and Jeremy Roenick, who spent three years with the
Flyers
between 2001 and 2004, has been finding that out on Wednesday after his appearance on a cable TV show.
Roenick, while appearing on Jay Mohr's Fuel TV show,
Master Debaters
(
no, we're not making that up
) was
involved in a discussion about the most annoying fans in sports
. After referencing the now infamous Santa Claus incident, Roenick brought up the Flyers game where
a fan reached over the glass behind the penalty box and tried to grab at Toronto
Maple Leafs
forward Tie Domi after he squirted the fan with a water bottle. Roenick then described Philadelphia fans as "crazy, crazy sons of b***ches."
Flyers fans were not amused, and have apparently been sending the nine-time All Star some hate mail and hate Tweets throughout the day, prompting Roenick to go on the offensive, 140 characters at a time, on his official Twitter account. Here's a brief excerpt of the madness.
There's a ton of Twitter shorthand in here, so please try to follow along as best you can -- it's rough, I know -- but you should get the gist of what he's trying to say. I think. Maybe.
Let's rephrase the question to u uneducated people giving me crap! The ? Was who r the worst fans! Not worst fans supporting their own team. Worst fans to play in front of as an opponent. The hardest fans to please cause of their devotion to their sport. U can't argue w me. Phili is the toughest on visiting team and their own players that don't work hard or pull their weight. U guys will bo(o) a player out of ur City if ur a slacker and a bum and don't work for the emblem on the front of the phili jersey no matter what sport it is. So all u idiots tweeting me w uneducated hate mail wake up and tell me I'm wrong. Cause I think phili has on of the most loyal fan base In the world for their own teams and only the players that give their heart and sole for them. Period end of discussion. I gave my heart Sole and body for that sweater!
My heavens. And it's been like this all day. Roenick went on to say, again, 140 characters at a time, that he he went through five concussions to give his heart and soul for the teams he played for, that fans don't see the commitment involved from a professional athlete, and that he also feels that Philadelphia has the most loyal fan base out there, and that his comment wasn't directed at all of them ... just the people that were giving him a hard time on Wednesday. You can read all of his Tweets
by clicking right here
.
If nothing else I think there are two lessons to be learned here:
1) It's probably not a good idea to refer to Philadelphia fans as "crazy S.O.B's" unless you want to hear from them.
2) You're probably not going to win an argument with an angry sports fan on the Internet.
Photo: Getty Images
For more hockey news, rumors and analysis, follow @EyeOnHockey and @agretz on Twitter.