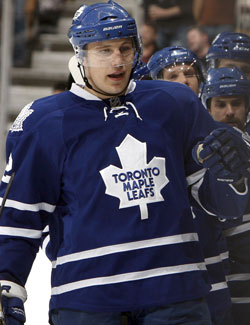 Make that two restricted free agents down, two more to go.
Just in the nick of time, the Islanders re-signed Josh Bailey then the Leafs followed suit by extending Luke Schenn, each without new contracts the day before most teams reported to training camp. That means we reached camps with all the restricted free agents under contract except two: the Coyotes' Kyle Turris and the big name on the block, Drew Doughty with the Kings.
Schenn was a tough negotiation to figure out. Eventually he got a five-year contract for $3.6 million annually. The Maple Leafs were looking for a lower price for Schenn but the desire to tie him into a longer deal drove up what they were willing to pay. The money does seem high, but consider what the going rate is for defensemen these days...
The hard part of the Schenn talks is trying to figure out his value. He's still a young player and projects to be a star for the Leafs on the blueline for a long time to come, but he hasn't shown that form as of yet. Clearly GM Brian Burke thinks he will meet that potential soon enough.
Billed as a stay-at-home defenseman, Schenn had five goals and 17 assists with Toronto last season while recording a minus-7. Those numbers were certainly a contributing factor in getting a good contract.
First came Bailey. Word of his new contract came down in the late hours Thursday night and he made if official by signing his two-year, $2.1 million contract on Friday morning.
Bailey's contract comes on the heels of the team re-signing John Tavares, avoiding the restricted free-agency drama altogether. Reports all along were that the negotiations were close and going smoothly, a deal was expected to be reached. I wonder why it took so long, but as long as it was completed before camp, no harm no foul, just some uneasiness.
Bailey is another part of the young core the Islanders are building around. Last season playing 70 games he had a little stepback from his sophomore season, scoring 11 goals to go with 17 assists.
Photo: Getty Images
For more hockey news, rumors and analysis, follow @EyeOnHockey and @BrianStubitsNHL on Twitter.