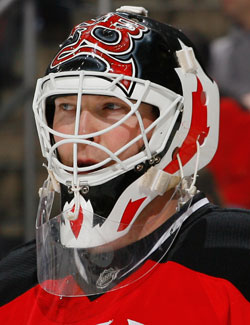 Martin Brodeur has already achieved enough for two careers. His name is plastered all over the goaltending record books and soon he'll be adding another one to the list ... most career losses. Hey, that comes with the territory of such a long career.
The four-time Vezina Trophy winner is now 40 and doesn't have a contract beyond the upcoming season. With him posting the lowest save percentage of his career since he was 22 years old and the aforementioned numbers, it would be a reasonable assumption to think this would likely be Brodeur's last season.
Maybe not.
Brodeur said that he might still be interested in playing next year, or even two years from now taking into account the possibility of a strike.
"I'll listen to everything, but it's what I'm going to be at peace with. I could be the one asking," Brodeur said. "Who knows? We'll see how the season is going to go, how I'm going to feel and how everything plays out. When you get to my age there are a lot of different things to take into consideration. It's not just playing hockey to play hockey. It's a way of life. You want to be happy to play hockey and your family has to be OK with it."
Remember, the Devils are coming off an awful season, missing the playoffs for the first time since 1995-96. So do the Devils need a good season to entice Brodeur to come back?
"Not playing-wise. That doesn't change anything for me," he said. "It's not about what kind of team we have. It's about how I feel about playing the game. That will make me make my decision one way or the other."
Hey, if Dwayne Roloson can get another contract at age 41, no reason Brodeur can't play a couple more seasons.
Photo: Getty Images
For more hockey news, rumors and analysis, follow @EyeOnHockey and @BrianStubitsNHL on Twitter.