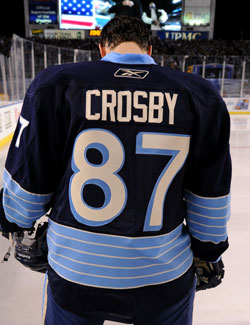 Sidney Crosby has been cleared to practice with the Penguins, just not for contact yet. This represents a big step in his long recovery from post-concussion syndrome.
"I'm cleared to practice without contact. That's good news for me. I'm excited to get going," Crosby said Crosby on Friday. "Whatever symptoms I've had have been pretty minimal. To be able to get cleared to do this is good."
I can hear what most of you are saying, "Oh great, another Crosby update" but this one has real merit. It's so tantalizing, it has some people wondering if Crosby will be back in time for the start of the season. While I won't even think of going that far, this would qualify as moving on to the next phase. But to state the obvious, hockey is kind of tough. Until he is given a green light on contact can we even begin to speculate when he might be back playing games.
From the Penguins official team site:
"I think camp will be a pretty good indication. It's going to be pretty intense," Crosby said. "Even without contact, I'm sure it's going to be a pretty good pace. I'll see how things go then.
"But I feel like I've done pretty good tests of exertion at different points and responded pretty well. I think the main thing is that I feel pretty comfortable and confident with where I'm at heading into camp here."
This isn't the first time that Crosby has been cleared to resume hockey activities sans contact. At the end of March he was given the OK to join the team skates with the possibility of a return by the playoffs lingering. But things were shut down when Crosby began suffering post-concussion symptoms again.
So for now, Sid will just worry about things, day by day.
"You don't want to be evaluating yourself every minute out there," he said. "You want to go out there and try to do the things you normally do and see how things go. That being said, if everything is going well, you've got to use that time to get ready and get back in shape and timing and all of that stuff. It's been a long time since I've been out there with a group and it's been intense, so I'm just looking forward to getting out there and doing that."
All this time, the Penguins have been very cautious with Crosby, insisting on not pushing him back too soon, coach Dan Bylsma included. But that doesn't mean it doesn't get him excited to see his superstar back training with the team, even if in a diminished role.
"In terms of seeing Sidney Crosby on the ice in that jersey and participating in practice, it's always good to see that," Bylsma said. "He'll be out there with his teammates and participating.
"A lot of what he's doing will be what he is comfortable with. He'll be at the same pace and tempo as the other guys. Some of the contact drills he may not participate in."
But right now it's a massive step that there are drills he will be participating in.
Just in case you need a reminder, Crosby is, oh, kind of good. He played in exactly half of the games last season yet still led the Penguins in points by 16, scoring 32 goals and adding 34 assists.
Photo: Getty Images
For more hockey news, rumors and analysis, follow @EyeOnHockey and @BrianStubitsNHL on Twitter.