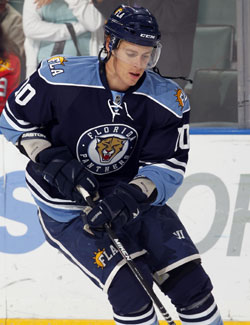 The Panthers have been wearing an alternate jersey the past two seasons that has had them looking an awful lot like the Pittsburgh Penguins (and the Columbus Blue Jackets' alternate as well) in their throwback/alternate sweaters. Dark blue with light blue and a happy Panther in the center? That's been one of their looks recently.
Well assistant GM Mike Santos can't wait to say goodbye to the "Jetblues" as they are called in Florida, referencing one of the organizations biggest sponsors, Jet Blue airlines.
The team is obligated to wear the third jersey on 13 dates this season, and Santos wants to get those dates out of the way, including wearing them on the road.
"As soon as we can rid ourselves of those things, we'll be a happier bunch," Santos told George Richards of the Miami Herald on Friday when the team reported for training camp.
Of course, perhaps a large part of that has to do with the organization reidentifying itself with the color red. Among the steps they have taken is to go on a tour of South Florida promoting the new slogan of "We see red" and reupholstering all the seats in the BankAtlantic Center, changing them from a greenish-blue to red.
"We're connecting to a time when this organization was successful," Santos said. "A big part of that success is the color red. Red is our color, is a Panthers color. It's not light blue, baby blue or all these other silly colors. They have nothing to do with us. We were successful in red and will be again."
Earlier this summer I talked to the longest-tenured Panther Stephen Weiss and asked him his thoughts on the team's new red jersey. He said he had not really seen them but he and many of his teammates were looking forward to going away from the blue alternates, lamenting how similar they are to Pittsburgh.
So when those 13 days are done, Santos and Florida will be singing Bye, bye Blues.
Photo: Getty Images
For more hockey news, rumors and analysis, follow @EyeOnHockey and @BrianStubitsNHL on Twitter.