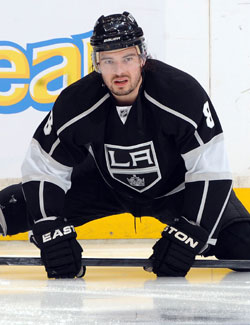 Will the Kings ever be able to re-sign Drew Doughty? I'm starting to wonder.
Aside from paying even more than what they have been willing to (reportedly $6.8 million annually, same as the team's highest-paid player Anze Kopitar), there doesn't seem to be much left.
With training camp for Los Angeles opening today, Doughty is officially a "holdout." Technically, he's not a holdout because he doesn't actually have a contract, but that's semantics, hence holdout in quotes.
Technicalities aside, Lombardi is getting down to business. In an interview with Rich Hammond at L.A. Kings Insider, he went into detail about the negotiations and you can feel the frustration from Lombardi through the screen.
"Obviously we're very disappointed that he's not here. I don't think it's any secret, what we think of this player and his abilities and what his potential is," Lombardi said. "Where we're at now, we certainly stretched the limit in terms of paying him amongst the top players in the league, paying him appropriately within the team's salary structure and, most importantly, being able to keep this group together."
Going into great detail of the negotiations up to this point, Lombardi insists that all the options have been explored. Short-term contract and revisit again in a couple seasons? Discussed. Name it, Lombardi says they have tried it.
Lombardi's goal was to have the negotiations done by July 1. Some of the reasons obvious: it would have given them a clearer picture of their cap space headed into free agency, would have taken care of the headache, etc. But Lombardi also wanted it done then so Doughty would be focused on offseason conditioning, a big concern for any player who is in a contract dispute.
But now Doughty is missing company time. The summer is over and Kings are in camp. So Lombardi says that brings up a whole new twist in the talks: salary deductions for each day missed. Check out the follow exchange.
LOMBARDI: "The problem we have, and we're going to have to see how this evolves, is that generally with a player, you establish his market value and he signs up for 275 days of work. That was the one thing that changed during the CBA, that players were paid during training camp. So, quite frankly, it's the way we have to approach this. Let alone missing a day or work, as well as getting behind your teammates in terms of preparation. It probably makes this a little more difficult, but you have to factor that in now. You're not getting a full year's work as of today."
Question: Meaning the offer gets reduced by however many days he's not here?
LOMBARDI: "Well, as we talked about before, there has to be some finality, in terms of when the players are supposed to report. It's no different, I think, than what the other teams have done. It's, `OK, now we have to regroup here and see what evolves,' and then I have to go back to ownership. It's no different than anything else. You do this based on 275 days of work, and now it's down to 274."
If, and that's a big IF, Lombardi is telling the truth, this has a serious chance to destroy the negotiations, not like they are so promising in the first place. But Lombardi has been around the block and knows how unpredictable these negotiations can be.
"Like I said, these things can change in a short time. It's not that it's not encouraging. It's a little disappointing, but we're also excited as to what I'm seeing and feeling downstairs. We see this kind of thing happen, and eventually it will be resolved. We can't let this, in any way, derail us from the focus we need here every day."
Now something will likely be reached at some point, obviously, but it still doesn't seem like it's going to be soon.
Photo: Getty Images
For more hockey news, rumors and analysis, follow @EyeOnHockey and @BrianStubitsNHL on Twitter.