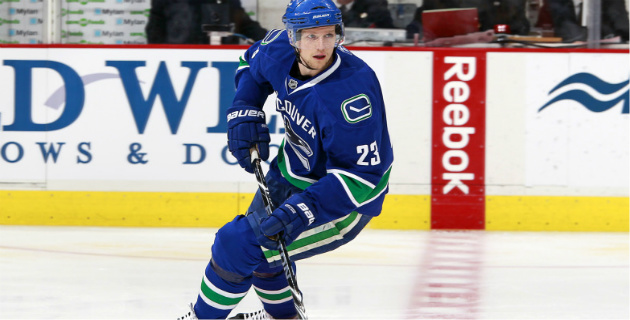 By: Adam Gretz
Over the past two seasons no defenseman on the Vancouver
Canucks
roster provided more offense than
Christian Ehrhoff
's 28 goals and 66 assists.
The veteran defenseman moved on this summer, signing a lucrative -- some might say outrageous -- contract with the Buffalo
Sabres
that will make him one of the highest paid players in the NHL this season with a salary of $10 million. The contract carries
an average annual salary of $4 million
, which isn't all that bad for a player that produces like he has -- until you remember that it runs for 10 seasons and Ehrhoff will be 39 when it expires.
Still, Ehrhoff has proven to be a productive player and one of Vancouver's top defenseman, and such production from the blue line would seem to be difficult to replace. Captain
Henrik Sedin
has an interesting perspective on Ehrhoff's absence and how the team will work to replace him.
From Brad Ziemer of the Vancouver Sun
:
"He was in a spot where I think we have other guys who can step up and play in that role," Sedin said, clearly referring to Ehrhoff's power-play time. "Alex [Edler] is going to get more responsibility and we have a healthy Sami Salo now, and we have some other guys who are going to play a few more minutes.

"I think on the back end we were deep last year and we are deep this year. So I don't think we should lose too much."
A large percentage of Ehrhoff's point production came on the power play the past two seasons, while the Canucks put him in situations where, more often than not, he was starting a shift in the offensive zone as opposed to the defensive zone. He also was usually on the ice with the Sedin twins. Back when Ehrhoff originally signed his contract with the Sabres, Gabriel Desjardins at Arctic Ice Hockey put together an analysis of how the Canucks used Ehrhoff and how favorable it was for the defenseman to put up points.
40% of the time that Christian Ehrhoff was on the ice, the Sedins were there too. Ehrhoff got easy ice time - either the 5th- or 6th-softest on the team this season, and the highest percentage of faceoffs in the offensive zone among the defensive corps.

Not only that, but he didn't outshine his teammates in scoring at 5-on-5
Obviously when you're playing with players like the Sedin twins, on the power play, and in a position where you're starting closer to the goal you're trying to score on offensive production is going to be slightly easier to come by, and that's the situation Ehrhoff usually found himself in as a member of the Canucks. That's not to say that Ehrhoff is a bad player or that he'll be easily replaceable, it just may not be as hard as one might expect. The Canucks still have some impressive depth on the blue line with Dan Hamhuis, Alexander Edler, Kevin Bieksa, Keith Ballard and Sami Salo. It's still an excellent group.
Edler, 25, will likely take over Ehrhoff's role and he seems more than capable of leading the Canucks blue line from an offensive perspective. In just 51 games last season he finished with eight goals and 23 assists, which followed seasons where he recorded 42 and 37 points respectively. It should be interesting to see what sort of boost -- if any -- his production gets this season taking on more power play responsibilities and filling the role that belonged to Ehrhoff the past two seasons.
Photo: Getty Images
For more hockey news, rumors and analysis, follow @EyeOnHockey and @agretz on Twitter.