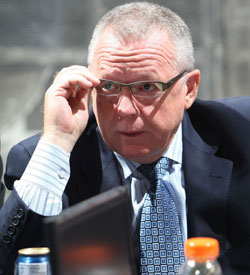 The Hurricanes signed general manager Jim Rutherford to a four-year contract extension on Thursday, keeping him in Carolina through the 2015-16 season.
"Jim is one of the premier general managers in all of sports," 'Canes CEO, Owner and Governor Peter Karmanos said. "In the 14 years since the Hurricanes arrived in North Carolina, his leadership has allowed our franchise to host two Stanley Cup Finals, the NHL All-Star Game and the NHL Draft, bringing tremendously positive attention to the team and the area. This contract will take him through his 30th year with our hockey organization, and I am proud to have been associated with Jim for that long."
That's right, Rutherford has held his position as the GM of the organization going back to their days as the Hartford Whalers. He is the second-longest tenured GM in the NHL behind only Lou Lamoriello in New Jersey.
Rutherford has had a good run leading the organization, highlighted by the team bringing the Stanley Cup to Carolina in 2006. He has done a good job keeping up a level of success as the 'Canes did make it back to the Eastern Conference finals two years ago and they have been in the playoff hunt every season.
Part of the staff's success in Carolina has been the ability to draft. It isn't as if Raleigh has been a location where players are breaking down doors to play or that they are winning by virtue of a big budget. Instead they are led by home-grown talent such as Eric Staal, Erik Cole, Jeff Skinner, Cam Ward and Chad LaRose.
Twice in his career in Carolina has he been recognized as the Executive of the Year by THN, both years the Hurricanes made it to the Stanley Cup Finals.
Photo: Getty Images
For more hockey news, rumors and analysis, follow @EyeOnHockey and @BrianStubitsNHL on Twitter.