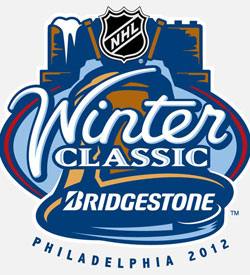 The NHL has scheduled a news conference for Monday to make a big announcement. Let's take a look at the release.
The National Hockey League will host a major press event Sept. 26 at Citizens Bank Ballpark in Philadelphia.
The press conference will start at 1:30 p.m. ET, and will be televised by the NHL Network and streamed at NHL.com. Coverage of the press conference on NHL Network will begin at 1 p.m. and be streamed on NHL.com.
The suspense is killing everybody; what could it be? Why have it at the home of baseball's Phill ... oh.
Yes, the NHL is going to finally announce the worst-kept secret going in sports, that the New York Rangers will play the Philadelphia Flyers in Citizens Bank Park for the Winter Classic. This thing has been leaked more than the U.S. Department of Defense's reports.
Just today the below video began making rounds around the Internet. Also, a pretty professional logo is floating out there too. Throw in the fact that it is the only game scheduled for the daytime on Jan. 2 (Jan. 1 belongs to the NFL this year ... absolute sacrilege the Rose Bowl won't be on New Year's Day, same goes for the Winter Classic) and HBO already beginning to film for its 24/7 series, and you could see this one a mile away. Make that 20 miles.
Whether or not the video or logo are genuine doesn't really matter. First of all, either could be used even if they aren't official, they look to be close enough. Secondly, it just underscores the point of how poorly this has been kept quiet.
Maybe this will be a lesson for the NHL. There has been no reason to delay making this announcement. Things have appeared to be wrapped up for months on this game. Instead, the NHL has taken away any suspense whatsoever from the announcement of its most spectacular event.
Photo: Courtesy of Puck Daddy
For more hockey news, rumors and analysis, follow @EyeOnHockey and @BrianStubitsNHL on Twitter.