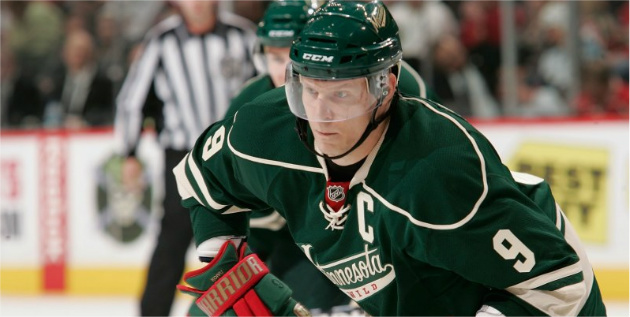 By: Adam Gretz
Mike Yeo is entering his first year as the head coach of the Minnesota
Wild
and he's already starting the PR push for his best player,
Mikko Koivu
, to take home one of the NHL's top individual awards -- the Selke Trophy, which is awarded to the NHL's best defensive forward.
Koivu, Minnesota's captain, is entering his seventh season in the league and has become one of the NHL's best two-way centers -- and probably an underrated one, too -- and will be playing the first year of a seven-year contract extension
that pays him $6.7 million per season
. He plays in all situations for the Wild and has finished as the clubs leading scorer in each of the past three seasons.
In an article that appears in Wednesday's
Star Tribue
,
via PHT
, Michael Russo
spoke to Yeo about his expectations for Koivu this season
as the Wild attempt end a frustrating three-year playoff drought. Yeo admitted he has high expectations for the 28-year-old forward, and said he's going to make a push for him to win his first Selke Trophy. He didn't crack the top-20 in voting this past season, but did finish 11th back in 2009-10.
Said Yeo, via Russo:
"One thing I already started talking to Mikko about is I'm going to push for that guy to win the Selke Trophy [NHL's best defensive forward]. I don't know if he's going to win the Hart [MVP] next year, but I believe he can win the Selke. In order to do that, you have to get a lot of points, but you also have to be great defensively."
Emphasis mine. Yeo, of course, is not wrong with that comment.
Even though the Selke is awarded to the NHL's best
defensive
forward, there is no way to avoid the fact it generally goes to a player that also scores. A lot. Winners of the award have
averaged over 60 points per season the year they've won it
, and since 1990 there's only been one winner -- John Madden in 2000-01 -- that finished with fewer than 40 points. The finalists for the award over the past four years alone have finished with the following point totals, lowest to highest: 43, 49, 59, 59, 70, 73, 75, 76, 80, 92, 97, 97.
That's not to say that any of the recent finalists -- and winners -- haven't been deserving, as the list usually includes
Pavel Datsyuk
and
Ryan Kesler
(as it has in each of the past three years), two exceptional defensive players. But scoring
does
help get you noticed, which can only hurt players like
Blair Betts
,
Samuel Pahlsson
or
Martin Hanzal
, players that are excellent defensively, but don't score a ton of points. Koivu can certainly score, having reached the 60-point mark in each of the past three seasons. The problem will be finding a way to crack the top-three, when two of the spots have gone to the aforementioned Datsyuk and Kesler in each of the past three seasons (Datsyuk has been there the past four seasons, and deservedly so).
Photo: Getty Images
For more hockey news, rumors and analysis, follow @EyeOnHockey and @agretz on Twitter.