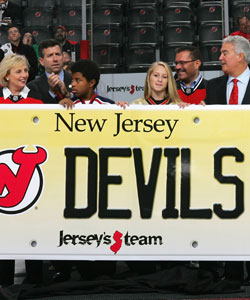 It wasn't long ago that a report surfaced on the Devils facing bankruptcy, something they denied uncategorically. Bankruptcy or not, it seems clear there is at least something that has to give in New Jersey.
That's part of the reason why co-owner Ray Chambers is looking to get sell his share of the franchise. From the Star-Ledger:
Devils co-owner Ray Chambers is seeking to relinquish his stake in the NHL team as part of an exit strategy aimed to help the financially struggling franchise refinance its debt, according to two sources familiar with the situation.
An organizational source close to the negotiations said the Brick City LLC holding company, operated by Chambers' son-in-law Michael Gilfillan, has agreed to pay off a $23 million loan to a lender as part of an arrangement that would allow Chambers, a billionaire philanthropist, to give up his 47 percent share in the team. The other main co-owner, Jeffrey Vanderbeek, still owes $23 million from the joint loan that paid for team operations, the source said.
It hasn't been much of a secret that Chambers was looking to remove himself from the ownership of the Devils. It is somewhat odd to see a guy paying to give up his stake of the franchise, but consider that's it's probably mostly all in debt from the Prudential Center, it begins to make a bit more sense.
This can help the Devils move on with their day-to-day operations, getting this matter sorted out. More from the Star-Ledger:
Chambers, along with Gilfillan, have owned Devils Arena Entertainment, which has operated the Prudential Center since 2004. While the Devils vehemently denied reports earlier this month that they were on the brink of bankruptcy, estimates of the team's reported debt have ranged from $170 million to $190 million.
Vanderbeek will now be able to pursue financing without Chambers, who was looking to extract himself from the organization. A source said negotiations to refinance the team's debt are ongoing and there was a timetable for Chambers to withdraw himself from the process.
So the financial picture doesn't seem as bleak as it was originally reported.
Now Vanderbeek will control almost the entirety of the franchise and with his loan taken care of, to clear up the money situation. After things get settled, don't be surprised if Vanderbeek were to go looking for another investor to help pay the team's bills. After all, Zach Parise still needs to be locked up long-term.
Photo: Getty Images
For more hockey news, rumors and analysis, follow @EyeOnHockey and @BrianStubitsNHL on Twitter.