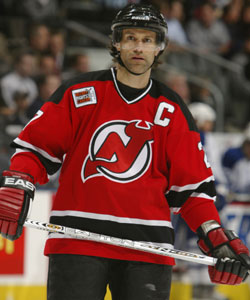 The Devils will retire the number of Scott Niedermayer on Dec. 16 against the Dallas Stars. The team made the announcement on Monday just about the same time two of their geographic rivals were announcing the Winter Classic plans. Talk about a sense of timing.
"Scott Niedermayer's talent and leadership played significant roles in each of our three Stanley Cup Championships," Devils GM Lou Lamoriello said. "We look forward to welcoming the Niedermayer family back to New Jersey as we retire Scott's No. 27."
Niedermayer's number will join Scott Stevens' No. 4 and Ken Daneyko's No. 3 in the rafters in New Jersey as the only retired numbers in franchise history. Interestingly enough, Niedermayer trails only those two in games played by a defenseman in team history.
"You don't really think about it, but then when you do get that call and you do have the time to think about it, it means a lot," Niedermayer said. "I was in New Jersey for a long time and had a lot of great things happen to me there. It's a special honor, for sure."
The five-time All-Star ended his career with 172 goals and 568 assists and a Norris Trophy in 2003-04. He was selected by the Devils with the third overall pick in the 1991 draft and he remains the youngest player to play a game in team history.
Niedermayer was also part of the Ducks' lone Stanley Cup, captaining Anaheim to the win. And wouldn't you know it, the Ducks are in town on Dec. 17. We'll just call it another case of curious timing.
Photo: Getty Images
For more hockey news, rumors and analysis, follow @EyeOnHockey and @BrianStubitsNHL on Twitter.