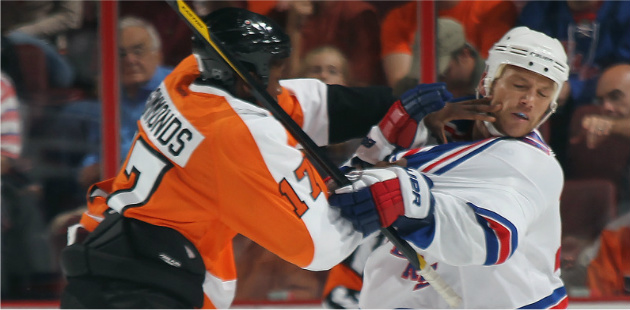 By: Adam Gretz
Less than a week ago Philadelphia
Flyers
forward
Wayne Simmonds
was
on the receiving end of a racial taunt
when somebody threw a banana peel at him during an exhibition game played in London, Ontario. Simmonds showed a great deal of maturity and class when talking about the incident after the game, and basically said that he allows things like that to roll off of his back and didn't really speak about it again.
On Monday night, during Philadelphia's 5-3 win over the New York
Rangers
, which featured a handful of intense moments, Rangers agitator and pest
Sean Avery
accused Simmonds of calling him a homophobic slur
during one of the many heated exchanges that took place during the game.
The heated moment
was caught on camera
.
Simmonds claimed,
via Andrew Gross of the Bergen Record
, that he doesn't remember exactly what he said during the encouner.
Avery, who is paid to do whatever he can to get under the skin of his opponent and get them off their game, whether it be physically or verbally, has a long history of controversial comments and actions, both on the ice and off of it.
A couple of examples: 1) He once called a press conference to talk about players dating his ex-girlfriends,
resulting in a six-game suspension
. 2) As a member of the Los Angeles
Kings
he was accused of making fun of one of his teammates,
Dustin Brown
,
due to a lisp that had been with him since childhood
. 3) He once forced the NHL to change
its rules during a playoff series
due to his decision to stand in front of
Martin Brodeur
, raise his arms in the air, and wave them back and forth.
Yes, he's quite the character.
Off the ice he has been
a vocal supporter of equal marriage rights
and has spoken out
in support of openly gay hockey players
.
It remains to be seen whether or not the NHL will -- or can -- do anything, but in recent years the NBA has
fined players such as Kobe Bryant
and
Joakim Noah for using homophobic slurs
toward officials and fans. TSN's Bob McKenzie pointed out on Monday evening that the NHL's policy
is to check with on-ice officials
to see if they heard anything, and if not,
nothing usually happens as far as discipline is concerned
.
Of course, with Brendan Shanahan running things now you can probably throw the old policy out the window because he seems intent on dropping the hammer.
Photo: Getty Images
For more hockey news, rumors and analysis, follow @EyeOnHockey and @agretz on Twitter.