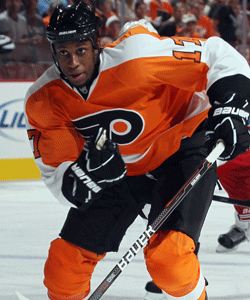 In the week's OTHER Wayne Simmonds story, the one without Sean Avery, there has been a break in the case.
It was last week when the Flyers will battling the Maple Leafs in an exhibitio match in London, Ont. when the game went to a shootout. While Simmonds, who is black, was driving toward the net, a banana came flying from the stands and right by Simmonds, who ignored it and still scored the tie-breaking goal. But nobody was held responsible for the act that certainly appears to be racial in nature (minus the legality issues of throwing something onto the ice during the game) as the banana-thrower wasn't spotted, as hard as that is to believe.
Turns out, maybe the thrower was seen. By a few people. The London police opened up an investigation into the matter and shared that they have a tip.
From the London Free Press:
"We have information that's been given to us ... and that obviously means a name has come forward," Const. Dennis Rivest said Tuesday.
He said no charges have been laid and the investigation is ongoing, he said.
More than one person who contacted police and the John Labatt Centre, where the banana-throwing took place, mentioned the same name, he said.
Rivest wouldn't give any identifying information about the suspect.
"It's pretty tough to predict how long an investigation is going to take," he said. "Hopefully, we have a resolution fairly quickly."
The banana-tosser could be subject to a charge of "engaging in a prohibited activity" under the Trespass to Property Act.
So there you have it. The police seem to have their suspect who could be charged. But the real punishment in this case will the revelation of the person's name and them being subjected to the scorn. He or she could be banned from the arena for a year or longer and suffer other tangible penalties like a fine, but that wouldn't compare to the humiliation of being outted.
There has been plenty of debate on this subject, about giving the thrower 15 minutes of fame with all the discussion. Some argue it's akin to showing a fan streaking onto the field at a baseball or football game. TV cameras don't show it, trying to not embolden future attempts. But people such as former goaltender and current NHL Network analyst Kevin Weekes have expressed their feelings that this person should have their name and face plastered all over, to take responsibility for their actions.
Me? I hope all this silliness comes to an end by the time the season begins.
Photo: Getty Images
For more hockey news, rumors and analysis, follow @EyeOnHockey and @BrianStubitsNHL on Twitter.