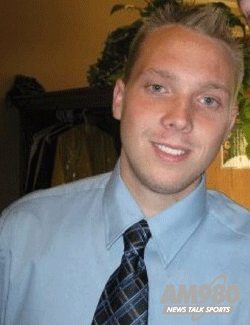 The London, Ontario police received some tips yesterday about the identity of the person who threw a banana onto the ice when Wayne Simmonds of the Flyers was competing in the shootout last week. On Wednesday, the department leviedcharges on 26-year-old Christopher Moorehouse under the trespass to property act, a provincial statute. John Matisz, writer for the London Community News, first reported from the police briefing.
Frank Seravalli at the Philadelphia Daily News had more.
"Mr.Moorhouse has been served with a part three summons, and if convicted of this offence -- could be liable to a fine of not more than $2,000," police chief Brad Duncan said. "This is a provincial offense and not a criminal charge, and will be dealt with in the provincial offenses court.
The fine is little comparted to the shame and ridicule Moorehouse will receive for having committed the act with racial undertones, considering Simmonds is black. On that front, the London police decided against charging Moorehouse with a hate crime.
"We took a very, very careful look at the circumstances and in this particular case it did not meet the threshold of a hate crime," Duncan said. "You have to demonstrate the incident was motivated by hatred - but the circumstances, and the statements that we've received, would not meet that threshold of a hate crime."
The Flyers soon released a statement after the arrest, thanking the London police for pursuing the case.
"We would like to express our gratitude to the City of London, the police department and the many fans who came forward with information leading to this arrest," team president Peter Luukko said. "We fully support the efforts to prosecute this individual. We have zero tolerance when it comes to this type of foolish behaviour. We will not tolerate it at the John Labatt Centre nor any of the other facilities we manage. The Philadelphia Flyers look forward to our annual preseason game next fall and playing again in our home away from home, the John Labatt Centre."
Moorehouse has retained council, according to the London police. Moreover, the "individual has indicated he is sorry" for the incident. I'd imagine so.
"I want the public to let him have his day in court ... we don't want individuals deciding to take action," Duncan said.
The court process might still have some time to go, but the court of public opinion won't likely wait. Moorehouse will have to deal with that part himself.
Photo: AM980 News Talk
For more hockey news, rumors and analysis, follow @EyeOnHockey and @BrianStubitsNHL on Twitter.