Enjoy this while you can, there's no telling what the Central will look like next season.
One of the premier rivalries in the sport is the Blackhawks vs. the Red Wings. The only two Original Six teams in the West, they have long been fierce combatants. In recent years the Blackhawks have awoken from the doldrums, making this a great series once again.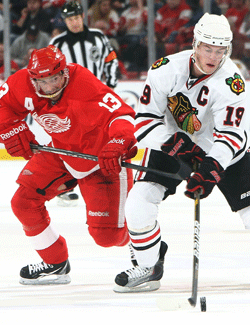 But this could be it, especially if Detroit has its way. Realignment is coming to the NHL, that much is guaranteed after Atlanta moved to Winnipeg. The Red Wings organization has made it no secret it wants to move East, rivalry with Chicago be damned. Columbus and Nashville would both welcome a move East as well. Something's gotta give, and it will be the Central Division.
It's too bad. Because this year the division is set up to be about more than just these two powers.
Nashville is always sneaky good. People seem to sleep on the Predators every season, but you know they will be there. They are looking to build off the first postseason series win in franchise history with their three Stars in contract seasons. St. Louis seems to think its Blues are ready to make a leap, so long as they can stay healthy. That was a challenge last season. And Columbus? Well there is at least optimism for the first time in a while and some buzz around the team after the addition of Jeff Carter and James Wisniewski to join Rick Nash.
But as many strides as those teams have and are taking, in the end it will likely still be about the two powerhouses. That's because the Blackhawks are back. They suffered a little last year after winning the Stanley Cup as they had to shed a lot of salary. That meant jettisoning a good chunk of the team that won the Cup. But the core remained together and the team found its groove in the end, pushing the Canucks to the brink in the first round. But after an offseason of reinforcing the roster, Chicago figures to be in the thick until the end.
And Detroit? The Red Wings are ... well they're just the Wings. It's hard to imagine them not being good. Although this year they don't seem to be as loaded as usual, those are some pretty lofty standards. They will still be a threat not only for the division title but in the Western Conference, they can flat out score. That much we know.
So if this is it as division rivals, it should be fun.
Central Division (in predicted order of finish)

Chicago Blackhawks: Ah, it's nice to be out of salary cap hell, isn't it Chicago? After having to do major salary shedding, the Blackhawks still come out with a cast of characters that includes the names Jonathan Toews, Patrick Kane, Marian Hossa, Patrick Sharp and newcomer Andrew Brunette. Throw in Dan Carcillo and Jamal Mayers to give the team some nastiness power and the forwards are well-rounded.
On defense they will miss Brian Campbell, just not his salary. Sure, he is overpaid, but that doesn't mean he didn't bring anything to the table for the 'Hawks. But the defensive corps is still solid, led by Duncan Keith, Brent Seabrook and Niklas Hjalmarsson. Expectations are very high in Chicago once again.
Strenghts: It's tough to find a better pair of linemates than Toews and Kane. They are both still stepping into their primes, so they have a lot more to show. Those two are also part of the reason why the power play should once again be successful. Last season the unit ranked fourth in the NHL with the man up, led by Sharp's 12 goals on the power play.
They figure to be better at killing penalties thanks to the additions of Mayers, Steve Montador and Sean O'Donnell, an area where Chicago struggled last season.
Weaknesses: Depth at center is a major concern at this point. The team has been experimenting during camp with Patrick Kane, of all players, manning the center position. Maybe it's an indictment on the centers on the roster. Perhaps it's an indication of Patrick Sharp's health (or lack thereof). Whatever the reason, it's slightly concerning.
I would also be a little worried about the backup goaltender situation behind Corey Crawford. Alexander Salak is going to have the job and he might be more than adequate in the role, we just don't know much about him at the NHL level where he has little experience.

Detroit Red Wings: The Wings are remarkably consistent as they have made the playoffs in each of the past 20 seasons. They also stay consistent in their roster, retaining a lot of their players over time. Case in point, this year's forward group. The Wings will trot out mostly all the same forwards as a year ago for when they finished second in the NHL in scoring.
But the defensive corps received quite a shakeup after last season's 2.89 goals against average, the retirement of Brian Rafalski and loss of Ruslan Salei.
In net they have Jimmy Howard with Ty Conklin backing him up. You have to wonder how much confidence Ken Holland and Mike Babcock have in their starter Howard, though, after the team had a failed pursuit of Tomas Vokoun.
Strengths: As mentioned, the Red Wings can score, almost all of them. Last season there were 13 players that recorded double digits in goals scored, led by Johan Franzen's 28. There is certainly loads of experience in Detroit, too. These guys aren't in their first rodeos. That especially includes defensive stalwart Nicklas Lidstrom, who put of retirement for another year on the ice.
Having the leadership that players like Lidstrom can provide certainly doesn't hurt. Also, you might have heard this Babcock fellow on their bench isn't so bad.
Weaknesses: Defense, defense, defense. That is the major concern/question mark here. They revamped the D, bringing in Mike Commodore and Ian White through free agency. Young defenseman Jonathan Ericsson received a pretty lucrative new deal, so he will be expected to improve.
In the defensive vein, the goaltending will also need to get better. Of course, that goes hand in hand with the defense, but Howard has room to improve. Playing for the Wings, his record was solid -- a nice 37-17-5 mark -- but the goals against average of 2.79 (36th out of 47 eligible goalies) and save percentage of .908 (33rd best) aren't worth writing home about.

Nashville Predators: Hope is high in Smashville coming off the best showing in franchise history, making it to conference semifinals. The Predators have more or less become the NHL's version of a Moneyball team, continuing to cultivate home-grown talent and win on the cheap.
The team is led by the high-profile trio of goalie Pekka Rinne (Vezina finalist) and defensemen Shea Weber (Norris finalist) and Ryan Suter, who are all going into contract seasons. It will be interesting to see how that plays out for each of them. For some players, it's a major distraction, for others it brings out the best playing for a new deal.
If there's anything we've learned about the Predators in recent years it's not to count them out, at least as long as Barry Trotz is on the bench. Maybe this will be the year he finally wins the Jack Adams as the best coach?
Strengths: The Preds have one of the best defenses in all of hockey. That's due to a multitude of reasons stretching from Trotz's system and philosophy to the outstanding personnel on the blue line -- which might get stronger with the addition of heralded prospect Ryan Ellis -- and the elite goaltending of Rinne. All in all, it led to the team posting the third-lowest GAA a season ago.
The farm system is also a strength, it usually is for Nashville. In addition to Ellis, they have forward Craig Smith, who drew rave reviews by scoring six goals in two games in the team's rookie tournament games.
Weaknesses: You would love to have somebody who is the clear-cut scorer on the team. Unfortunately, the Preds just don't score a lot, period, forget about one player. Only two players (Sergei Kostitsyn and Patric Hornqvist) topped the 20-goal mark with Kostitsyn pacing the team with 23. Perhaps a healthy Mike Fisher can help with that, at least that's the hope.
As you'd expect with low offensive numbers, the power play placed in the bottom five of the entire league a season ago. The leading power-play scorer was Martin Erat last season with seven.

St. Louis Blues: After coming out of the gate firing 9-1-2 last season, the Blues slowed down as the season wore along, eventually missing the playoffs by 10 points partly because the team dealt with a rash of injuries. Despite that finish, there is positive momentum going in St. Louis and the ownership sees it. That's why they left the young core of the team pretty much untouched this offseason, just electing to bring in a couple of savvy veterans in Jamie Langenbrunner and Jason Arnott to make an impact.
You can see the potential here, especially with another year under their belts. It will be interesting to see how they fare over a full season with Chris Stewert, who they acquired midseason from Colorado last year. After getting the forward, the Blues' offense saw a big uptick in scoring, eventually finishing 10th in the league.
Defensively they came in just below the median at 18th in the league. The Blues should be in the playoff picture all season long.
Strengths: There is a good amount of individual talent here, starting with Stewart and new captain David Backes. In all, they had six players last season score 20 goals or more and one of them, Andy McDonald, reached that plateau in just 58 games. With the abundance of talented and skilled skaters this is a team with plenty of speed up and down the lineup.
You also have to like the young defensive corps that has two stars in the making with Alex Pietrangelo and Kevin Shattenkirk, who each had 43 points from the back end a season ago.
Weaknesses: We weren't entirely sure where to put goaltending in this equation since Jaroslav Halak had some struggles in his first season as a No. 1 goaltender. However he showed what he's capable of when he was with the Canadiens. But based on his just average numbers of a season ago and the unsure situation behind him (Ben Bishop vs. Brian Elliott), we'll put this as our best guess.
Another area where the Blues are lacking is in the physicality department. You wonder where exactly the toughness will come from.

Columbus Blue Jackets: What is that coming from Columbus? Is that hope? Why yes, I think it is. GM Scott Howson was active this summer by bringing in Wisniewski and Carter along with Vinny Prospal and Radek Martinek on the blue line. In addition to signing new players, Howson was also busy in signing his current players to long-term deals, specifically R.J. Umberger and Fedor Tyutin.
Yes, the Jackets are spending money, that's not the problem. What is is the matter of how bang for the buck they are getting. To put it in perspective, the Jackets currently have a higher payroll than the Boston Bruins. The hope is that it translates into success, and a few more fans at the turnstiles as Columbus was 27th in the league in attendance last season.
Strenghts: They have struggled to score recently, but that should be done with, or at least minimized. They have a true No. 1 center now in Carter, which should only further help Nash show he is one of the best players people don't talk about in the NHL. The power play, perhaps Columbus' biggest bug-a-boo in recent seasons, should be significantly better now that they have a quarterback for the unit in Wisniewski (when he's back from suspension) and two very capable scorers up front. It had to get better from last year's 29th-ranked unit.
Weaknesses: Did somebody say goaltending? This is one area where the Blue Jackets didn't do a whole lot of upgrading. Instead, they elected to give the starting reins back to Steve Mason and signing the inexperienced Mark Dekanich to be his backup. Since winning the Calder as the league's top rookie, Mason has struggled. Last season he had a 3.01 goals against average and .901 save percentage. That's a big reason why the Jackets were 26th in scoring in the league.
And while Wisniewski helps, there still isn't much scoring threat from the blue line. Tyutin led Columbus in scoring among defensemen with just 27 points.
Photo: Getty Images
For more hockey news, rumors and analysis, follow @EyeOnHockey and @BrianStubitsNHL on Twitter.