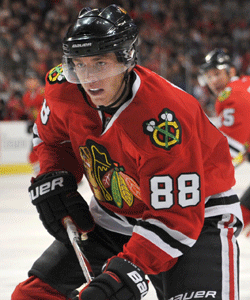 CENTER STAGE: Patrick Kane played his first game of the preseason last night, and the Blackhawks went throught with their plan to try him out at center. The reviews are in and they aren't bad. When asked if there was anything about the experiement that wasn't good, coach Joel Quenneville said "No, we liked it." COuld get interesting. (ESPN Chicago) Bonus note: Kane joined the Twitterverse on Wednesday, he can be found @88PKane and has over 14,000 followers after just two tweets.

RIPPING AVERY: Boy, this year's 24/7 will be good. The animosity continues to grow in the Broad Street vs. Broadway rivalry. Things got very ugly on the ice in Philly on Monday between Sean Avery and Wayne Simmonds. At one point, Avery was overheard on TV saying he didn't want to have to f***** kill (Claude) Giroux. So the Flyers' Danny Briere took Avery to task for being hypocritical and just seeking attention. (Philly.com)

AV APOLOGY: The Colorado Avalanche were whipped up and down the ice by the Kings on Wednesday, including a hat trick for Anze Kopitar. After last year's second-worst record in the NHL, it caused some bad flashbacks in Denver. Soon after, Matt Duchene took to Twitter to apologize: "Sorry to all the fans that paid their hard earned money tonight to watch that terrible performance of ours. We WILL be better" (Denver Post)

SLOW START: Speaking of not being pleased with preseason results, Capitals coach Bruce Boudreau was upset at Washington's 4-1 loss in Nashville on Wednesday. "It's time we started to get our act in gear and start playing better." If they don't, Boudreau's seat could be awfully warm come Thanksgiving. (Capitals Insider)

MOVING ON: James Wisniewski of the Blue Jackets received the toughest punishment from new chief Brendan Shanahan this preseason, but he's not dwelling on it. "I'm going to be around here, but I'm not going to be down about anything. No pouty face from me. It's over. It's done. That's how it has to be." (Columbus Dispatch)

SANTORELLI SETBACK: The Panthers will be missing one of their few holdovers for the first month of the season. Mike Santorelli, who had somewhat of a breakout season last year with 20 goals and 21 assists, will sit out with a shoulder injury until Halloween. (Miami Herald) Speaking of Halloween, the Panthers will give free tickets to kids who are willing to trade in candy for hockey. (Miami Herald)

GETTING TO KNOW YOU: Alex Ovechkin took time before returning to the States for the season to have a lengthy sit-down interview with Elena Khanian at Sobesednik in Russia. Here's the entire transcript in English. Among the interesting parts is this bit about his taste in women: "I think I will only marry a Russian, well, I mean, a girl from Russia. Russians are sincere, understanding and cook well." I imagine an influx of Russian women to the D.C. area soon. (Alex Ovetjkin)

IS HE READ-Y? One of the big revelations from Flyers camp -- outside of the fact that Jaromir Jagr can still play -- has been Matt Read. He leads the NHL preseason list in points and is still sticking with the big club. The unsigned free agent out of Bemidji State is doing all he can to make the roster, and it's looking good. (Philly.com)
Photo: US Presswire
For more hockey news, rumors and analysis, follow @EyeOnHockey and @BrianStubitsNHL on Twitter.