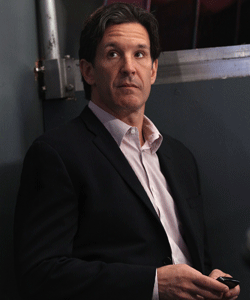 Since Brendan Shanahan has taken over, the eradication of head shots in the league has been priority No. 1. Clearly, it is keeping him busy as eight players have been suspended in the last eight days.
Down the priority list is the possibility of removing something else from hockey: fighting. We stress possibility because he didn't come out and say he wants to get rid of it, just that the NHL is "looking at [it] closely."
Specifically, here's what he had to say to CBC show Mansbridge One on One that will air next week.
"We're definitely very serious in making advancements in studying blows to the head; we have to also look at fighting," Shanahan said. "What the final decision is, I can't tell you now. That's something we're obviously going to have to look at, but there's no way we would ever deny that it's not something we're looking at closely."
So far, just about everything Shanahan has done has been almost universally praised. But that would change in a heartbeat if fighting were taken out of the game under his watch. Again, to clarify, in no way is he pushing for it to be removed, just that the league will keep a close eye.
This has become a Lightning rod of a topic this summer after the deaths of three former enforcers, Derek Boogaard, Rick Rypien and Wade Belak. No connection can be drawn between their on-ice roles as fighters and them taking their own lives, but that hasn't stopped plenty of people from doing just that. Three times smells an awful lot like a trend.
We don't want to rehash the discussion on fighting in the sport, that's already been done. We had an informal poll up over the summer and about 75 percent of users are against abolishing fighting.
I sincerely doubt the NHL is much closer to doing anything on fighting in the sport yet, but if nothing else they are scrutinizing it more.
Photo: Getty Images
For more hockey news, rumors and analysis, follow @EyeOnHockey and @BrianStubitsNHL on Twitter.