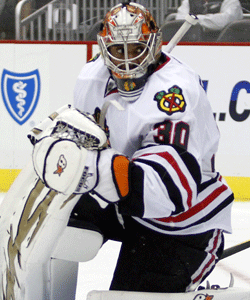 This summer, Ray Emery was viewed as one of the better free-agent goalies on a very thin market, but he went unsigned before being given a tryout by the Chicago Blackhawks. Despite a rocky preseason, he earned the backup spot, receiving a one-year, one-way contract worth $600,000 on Monday.
To earn the spot on the team he beat out young prospect Alexander Salak, who the Blackhawks optioned down to their AHL affiliate in Rockford. On a roster that is primed to make a run this season, the backup goalie spot behind Corey Crawford was one of the few missing pieces to the puzzle.
Emery earning the contract might come as a little surprise, but it seems Chicago values the experience he brings to the table over Salak.But this preseason, his numbers have been less than stellar. In two starts he had an 0-2-0 record, 4.58 goals against average and a 0.813 save percentage. Oh, and one ugly, blooper-reel worthy goal allowed to Matt Cooke of the Penguins.
Emery was at his best back in 2006-07 with the Senators, going 33-15-2 with a 2.47 GAA in Ottawa before slipping to the point where he spent a season in the KHL. He returned to the NHL with Philadelphia in 2009-10, then played for the Ducks in Anaheim last season, being thrust into the starting position for the playoffs. He went 7-2-0 in his short stint with Anaheim with a 2.28 goals against average, leaving many to think he's get a contract over the summer. Instead he had to work his way on and Chicago apparently liked enough of what they saw to keep him around.
It's going to be something to watch this season for Chicago. Crawford appeared to really settle in to being a No. 1 keeper last season, helping Chicago turn things around down the stretch and almost knocking out the ventual Western Conference champion Canucks in the playoffs. And while you can't read much into preseason numbers, Emery's aren't very comforting for Chicago fans, so they'll hope it was a matter of Emery just getting his feet wet.
Photo: Getty Images
For more hockey news, rumors and analysis, follow @EyeOnHockey and @BrianStubitsNHL on Twitter.