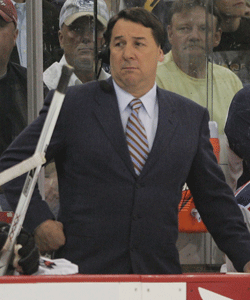 It's always nice to hear a minority opinion, it helps bring levity to a conversation, especially one as hot as player safety and Brendan Shanahan in the NHL.
So when Mike Milbury, the former Bruins defenseman and coach as well as GM of the Islanders, spoke at the NBC Sports media call on Monday, he turned up some serious heat on Shanahan. Following the opinions from Doc Emrick (cautious optimism about direction), Pierre McGuire (supportive) and Ed Olczyk (work in progress), Milbury put in his two cents. Make that two dollars.
"I was listening to the Muzak before this conversation. I was trying to get into a soothed mood. Leave it to Kevin Dupont to piss me off.

"I think if this goes the way it's going right now, it'll do more than if they took fighting out of the game. If it's called like this — and with all due respect to all the excellent comments by Edzo and Pierre and Doc — if this is the way they're going to call it, it is going to turn into touch football. People don't want to lose tens of thousands of dollars, going out for 10 and 20 games for what have been, sometimes, really vicious hits and sometimes questionable calls, in my opinion.
"I think right now the way it's called sucks.
"I don't like it. I don't like the trend of it. And I hope my colleagues are right that this is a work in progress. That they're being tough early and we're going to settle down and things are going to get back to where it should be.
"I wonder: Would the Bruins have won the Stanley Cup had the standard had changed to what Brendan Shanahan has made it today? I wonder if that would be the case. I think we might have had a different champion, and I wouldn't have liked that. I loved the way they played. I love the way they hit everything that moved.
"I'm not talking about head shots. I don't like head shots. I don't like concussions either. But right now, there's a lot of pink hats out there. And I don't wear a pink hat. Just ties."
Milbury has always been a fan of the rough side of the game. It was his controversial decision in the 1991 All-Star Game to include enforcer Chris Nilan and physical center Brian Skrudland that led to the changing of the selection rules, putting it in the hands of a committee.
The praise of Shanahan has been wide spread since he took over. Most everybody is in agreement that the head shots need to come to an end in hockey and accept that Shanahan will be extra vigilant to meet that end.
But Milbury obviously isn't too keen, and he just became the voice of reason for the anti-Shanahan folks out there, such as the ones that launched this Twitter account (@SayNoToShanny). We'll assume this is the mission statement for the account:
Let's play hockey the way it was meant to be played, shall we?
We might have two peas in a pod.
Photo: Getty Images
For more hockey news, rumors and analysis, follow @EyeOnHockey and @BrianStubitsNHL on Twitter.