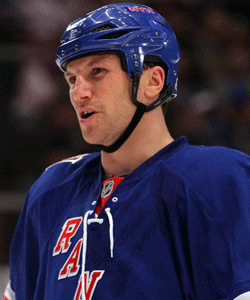 The New York Rangers put Sean Avery on waivers. The news was originaly reported by Larry Brooks of the New York Post, who is in Sweden to cover the team's season openers against the Kings and Ducks. The move was executed at noon by the Rangers per Dan Rosen of NHL.com.
The news could qualify as a stunner based on name recognition, but it doesn't come out of left field. Avery's role with the Rangers this year was never set in stone after he saw it diminish last season. He was in a battle this camp with Erik Christensen to make the roster and, well, we can see who won. Either that, or coach John Tortorella just doesn't like Avery. That's the theory the New York Rangers blog is subscribing to. Either way, Avery is out in New York.
"We think we have a better team, and think we have better players than Sean Avery," coach John Tortorella said. "Our depth put Sean in this spot. We have better players, maybe not in that role, but more versatile...certainly (Mike) Rupp helps fill that [role]."
Every NHL team will have a chance to make a claim on Avery, who is signed to make $4 million this season. Let's just say that seems unlikely to happen. Putting the factors together of an on- and off-ice headache and little production? Not entirely an ideal candidate for any team at this point. However it is possible he could get a look on re-entry waivers for a cheap rate, I just can't imagine there will be many takers.
That especially goes for the Maple Leafs, who are captained by Dion Phaneuf. Those two had a rather public spat once upon a time, leading to Avery's suspension and eventual cutting by the Dallas Stars after making a "sloppy seconds" reference about an ex of his (Elisha Cuthbert) who was dating Phaneuf.
Jesse Spector at the Sporting News reports that Avery's agent, Pat Morris, will be exploring all the options available, which naturally include joining the Rangers' AHL affiliate in Connecticut or playing in Europe. I wonder how well his trash talking and antics would translate to Russian?
But let's be honest, here: This is every NHL fan's loss. When looking ahead to this year's 24/7 series featuring the Rangers and Flyers before their Winter Classic matchup, Avery was one of the most intriguing aspects of the show. He was sure to be the Rangers' most interesting character. And with his recent incident involving the Flyers' Wayne Simmonds and "not wanting to have to kill [Claude] Giroux?" It was going to be must-see TV.
Lastly, does anybody else find it funny that Avery gets waived as his most notable contribution to hockey came from him waving his stick in front of Martin Brodeur's face?
On a somewhat related note for the Rangers, they placed Dale Weise on waivers and he nearly made it all the way through. Instead, he became the second waived player to be claimed (joining Nick Johnson, grabbed by Minnesota), being picked up by the Vancouver Canucks. It's a move that could pay major dividends down the road. The Rangers were taking a chance on waiving Weise, who had 38 points (18 goals) in 47 games for the Connecticut Whale of the AHL last season. Obvoiusly that risk backfired.
Photo: Getty Images
For more hockey news, rumors and analysis, follow @EyeOnHockey and @BrianStubitsNHL on Twitter.