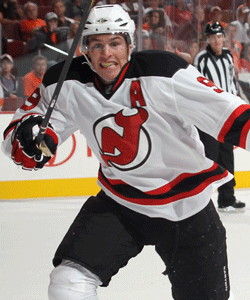 The Devils took their time, but they finally named their captains for this season. Getting the big C on the sweater is young star Zach Parise with the alternate designations going to Ilya Kovalchuk and Patrik Elias.
Parise was the odds-on favorite to wear the C despite both Kovalchuk and Elias having prior experience as captains at the NHL level, Elias with the Devils from in 2006-07.. For Parise, an assisant the past couple seasos, it has been a long time since he was captain. A really long time.
"The last time I was captain was in Squirts when I was eight," Parise said on Wednesday. "I think I was in high school, too. A little bit of experience in high school but I guess this is a little different than that."
One of the intriguing parts of this selection is the fact that Parise is set to become a free agent next summer unless things change. The Devils deny his contract status had any effect at all in the decision -- which isn't something I doubt, Parise has plenty of merit for the job -- but it could be a nice side effect. The pressure to stay as well as the franchise's commitment to him is a nice little safety blanket of the situation.
"He's got to stay here. That's the bottom line," Martin Brodeur said of Parise. "That's how we'll know how good he is as a captain."
Parise just signed a one-year contract with the Devils this summer worth $6 million, a strong commitment to a player coming off a meniscus tear that limited him to just 13 games last season. But remember that was the first time since his rookie campaign he didn't score at least 30. Not too much of a risk.
It was one of the first big decisions Peter DeBoer has made since taking over as Devils coach. Although he did have a little help.
"It wasn't a solo decision. This was something as a group we talked about from Lou [Lamoriello] to the coaching staff," DeBoer said. "I got an opportunity to spend the last 2-3 weeks around the group and we had the luxury here of a lot of leadership candidates. The group is much bigger than just the guys who are going to be wearing letters, starting with our goaltenders. There were a lot of good options."
Parise steps into the skates held by Jamie Langenbrunner, now a member of the St. Louis Blues. He becomes just tne ninth captain in Devils franchise history.
Photo: Getty Images
For more hockey news, rumors and analysis, follow @EyeOnHockey and @BrianStubitsNHL on Twitter.