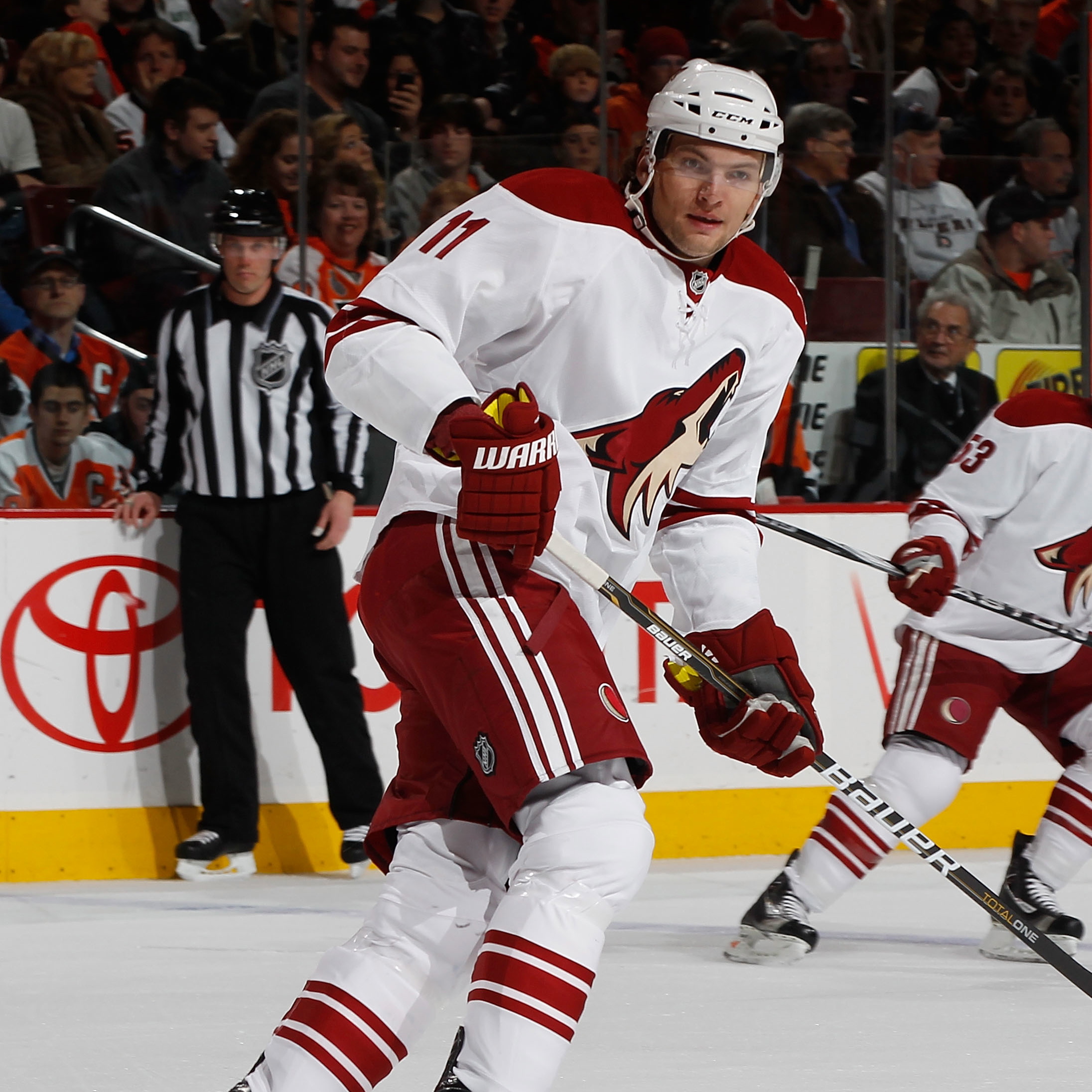 By: Adam Gretz
In his four seasons with the Phoenix
Coyotes
Martin Hanzal
has been remarkably consistent with his offensive production, averaging around 11 goals and somewhere in the neighborhood of 30 points every season. Not exactly superstar level production, but don't let that hide his overall value -- and importance -- to the team.
He spends most of his team in a defensive role, usually going against the other teams top lines, and doing everything he can to keep points off the board. It's a role that he's been very successful at, and on Thursday it was announced by the team that he signed a new five-year contract extension that will keep him in Phoenix through the 2016-17 season. The team did not release the terms of the deal, but according to John Shannon
of Sportsnet the deal will pay him a total of $15.5 million
, which is a cap hit of $3.1 million.
Said general manager Don Maloney
in a statement released by the team
, "We are very pleased to sign Martin to a five-year contract extension. Martin is a big, strong, skilled center and a core member of our team. He contributes at both ends of the ice and we are confident he will continue to improve to become one of the NHL's best two-way centers."
Critics of the deal will likely point to his point totals and question how 30 points gets you over $3 million a year, but again, that completely misses the point of what Hanzal brings to the Coyotes. Phoenix plays a defensive-style of hockey and Hanzal is one of the most important players on the roster when it comes to establishing that style of play.
And it's not all that out of line with what similar players are making around the NHL, while Hanzal is still only 23 years old and can still improve.
Just as a point of reference, the $3.1 million cap hit is nearly $1 million less per year than the deal Pittsburgh's
Jordan Staal
, a similar defensive-minded center with great size,
signed a couple of years ago
. It's also less
than the $3.375 million per year contract
Dave Bolland
signed with Chicago prior to the 2009-10 season.
Earlier this summer the Coyotes locked up another key part of their future by signing defenseman
Keith Yandle
to a five-year deal worth over $25 million. On Wednesday they signed Paul Bissonette,
master of Twitter
, to a two-year deal.
Photo: Getty Images
For more hockey news, rumors and analysis, follow @EyeOnHockey and @agretz on Twitter.