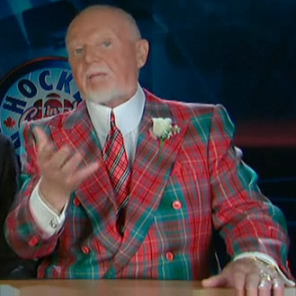 By: Adam Gretz
You can probably count Don Cherry as one person that is not a fan of the way Brendan Shanahan is running the NHL's discipline machine.
During his first Coach's Corner of the season on Thursday, Cherry, wearing what appeared to be his best Christmas-themed suit (pictured), sounded off on a number of topics, including the early suspensions handed out during Shanahan's watch, the people that tried to connect the deaths of
Wade Belak
, Derek Boogaard and Rick Rypien to fighting, and ex-fighters that have blamed post-retirement off-ice problems on fighting.
When asked by his longtime on-air partner, Ron MacLean, if he liked Shanahan's approach to discipline (such as the videos explaining each suspension) Cherry quickly pointed out that he hasn't seen any and doesn't want to, which is kind of like complaining about a book and then refusing to read it.
One of the first points he made was a reference to last year's incident that involved
Bruins
defenseman
Zdeno Chara
hitting
Canadiens
forward
Max Pacioretty
into the turnbuckle along the bench area in Montreal. Cherry went back and looked at the previous game between the two teams and showed how, after scoring a goal, Pacioretty gave Chara a shove and warned young hockey players to "never push the defenseman" after scoring a goal because "they always remember."
The next game, of course, involved Pacioretty leaving on a stretcher. When MacLean asked if Cherry felt that incident was premeditated, he simply responded with, "All I'm saying is he ticked him off and he got it the next game. Leave the defenseman alone after a goal because they always feel it's their fault."
From there, the segment focused on the bad precedent Shanahan is setting by giving players an excuse to not hit their opponents.
He then ran a highlight package of former New Jersey
Devils
defenseman Scott Stevens crushing people throughout his career -- including his now famous hits
on Eric Lindros
and Paul Kariya
-- and asked how many games Shanahan would have suspended Stevens for those plays.
The answer, of course, is probably quite a few games because many of the hits he featured are now illegal. Rules change. The game changes. Things that were legal 10 years ago no longer are.
He saved his strongest words for the end of the segment when discussing fighting, calling out the people that used the deaths of Boogard, Belak and Rypien as an excuse to push their anti-fighting agenda, and that they all "should be ashamed" of themselves. He closed by calling out former fighters Stu Grimson, Jim Thompson and Chris Nilan as being "turncoats and hypocrites" for suggesting fighters can be more prone to drug and alchohol abuse.
Said Cherry, "You guys, you were fighters, and now you don't want guys to make the same living you did."
You can see
the entire seven-minute segment over at CBC
.
Photo: CBC
For more hockey news, rumors and analysis, follow @EyeOnHockey and @agretz on Twitter.