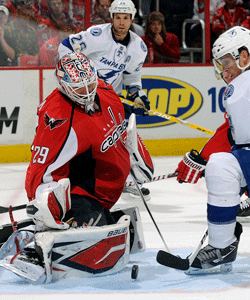 WASHINGTON -- As far as first impressions go, this one was way down the list.
Tomas Vokoun played his first game with the Washington Capitals on Tuesday against the Lightning, and, well, it was ugly. But don't take my word for it. Take Vokoun's, who still got credit for the win despite giving up five goals on 28 Lightning shots.
"I can't tell you the last time I remember having as bad a game as I did tonight," Vokoun said. "It just shows how strong this team is. They literally won today without goaltending. We won the game ... certainly not thanks to me."
The night got off to a rather ominous start. Vokoun surrendered a goal before every actually facing a shot from the opposition. The Bolts' first "shot" of the night was a centering pass from behind the goal line from Teddy Purcell that bounced right off Caps defenseman Mike Green's skates and in. Not much he could do there.
The second goal, though? Again, beat from behind the goal line, this time the puck squeezing in on his near side. It was ugly. At that point you could already hear the fans inside Verizon Center asking "THIS is the guy that's supposed to lead us to the Cup?"
After a few more Tampa Bay goals -- in Vokoun's defense, there were a couple of nice deflections from the Lightning and another time a man sat on his doorstep in the crease unmanned -- it got to the point that the crowd couldn't help itself anymore. A puck came trickling into the zone and Vokoun calmly shuffled it on to a defenseman, leading to a nice sarcastic ovation from the Caps faithful.
"Once you get a little bit on the heels, you're misreading the plays and it was just ugly, ugly, ugly game for me," Vokoun said. "Every time I thought something's going to happen, the exact opposite [happened]. Sometimes you go through games like that."
But Vokoun ended up redeeming himself. When it came time for the OT -- thanks to a late Jason Chimera tally, his second of the game -- he was spectacular. He helped the Capitals kill off time on the 4-on-3 and then stonewalled Tampa Bay's only two attemps in the shootout and totally redeemed himself. Or at least saved face.
"If you asked Tomas, he'll be the first one to tell you that's probably not the way he wrote the script," Capitals coach Bruce Boudreau said after the game. "I guess if you're trying to look at the big picture, it takes a guy with a lot of mental toughness top lay like that. And then in the overtime when you're having four-on-three against you and you make those three or four huge saves. I got to believe if it was me, I would have been so mentally out of it… and he comes up and he makes those big saves and he makes the save in the shootout. It told me a lot about his character and it ends up as a positive thing even if he didn't have a positive game for the most part."
But in the world of first impressions, this one wasn't the best. Coming on the heels of his agent saying the decision to start
Michal Neuvirth
in the opening game was a slap in the face? That's a little bit of a whole to dig out of. So long as he's as good as he was when it mattered most, that shouldn't be a problem.
"I'm going to make a promise I'm going to get them back sometime when they need me."
Photo: Getty Images
For more hockey news, rumors and analysis, follow @EyeOnHockey and @BrianStubitsNHL on Twitter.